Since January 2015, the LWVSC of DE Land Use Committee has focused on educating the public regarding the pivotal role the residents of Sussex County have in the drafting of the state mandated Sussex County 2018 Comprehensive Plan. During 2015, the Committee completed the initial five public workshop/forums in each of the five councilmanic districts to educate the public on the drafting of a new Comprehensive Plan for 2018. Since then, they have completed eleven more.  The focus of these forums is not only to educate residents on the significance of this plan, but to stress the importance of the public's active involvement in the drafting of this Plan. 
All forums are held on Wednesday evenings from 7-9pm in County Council Chambers in Georgetown. A moderated Q&A period follows each panel's presentation with questions submitted by members of the audience.
The Land Use Committee urges every resident to check out the County's website for additional information, to complete the Sussex Plan Survey to make your views known to your elected officials, and to sign up to receive notices of relevant County meetings and workshops via email. In addition, at all of Sussex's Planning & Zoning meetings, usually held on the 2nd and 4th Thursday of each month, the agenda features an update and discussion of the 2018 Comprehensive Plan, with opportunity for public comment during the discussion period. All residents are welcome to attend and state their concerns.  Please see the Comprehensive Plan Checklist and County Comprehensive Plan Adoption Procedures for more information.
Most Recent Public Forum

The League of Women Voters of Sussex County's Land Use Committee held a Public Land Use Forum on April 11, 2018 in County Council Chambers.  This forum was entitled: "Dissecting Master Planning in Sussex County."  It was the 18th in our series of public forums focusing on educating and empowering all Sussex residents to become involved in the drafting of the 2018 Comprehensive Plan.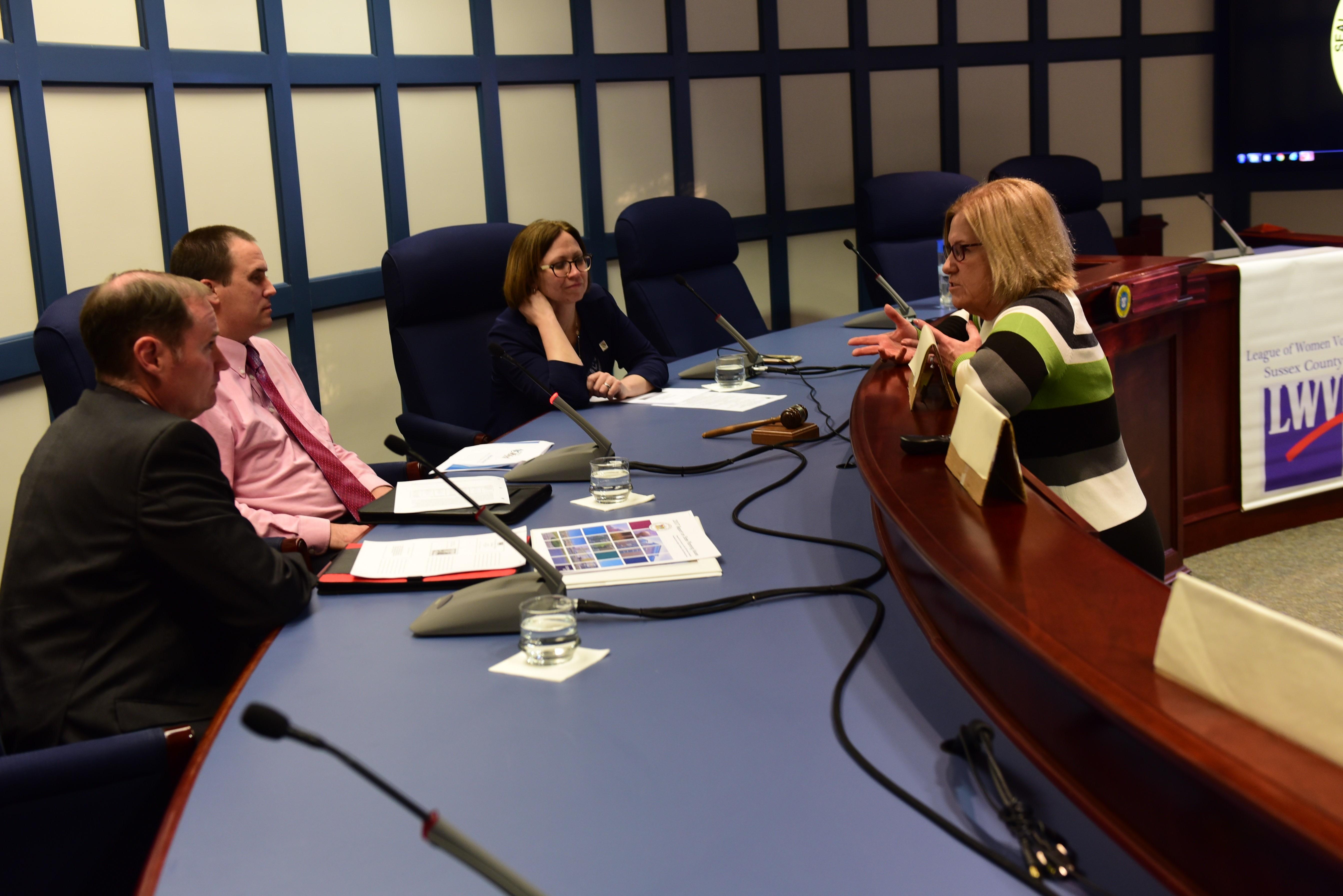 The presenters were:  David Edgell, AICP, Circuit-Rider Planner for Kent County; Rob Pierce, Milford's Planning & Development Director; and Ann Marie Townshend, AICP, City Manager, Town of Lewes. 
The speakers defined master planning as a land use plan that identifies access, general improvements, and needed infrastructure to guide growth and development over years.  The lengthy process involves transportation, infrastructure planning, agricultural preservation, environmental protection, housing, etc, with public input and consensus.  
A question and answer period followed the informative presentations.  
The forum was available via live streaming.  
The speakers' power point presentations are available here:  
For information and PowerPoint presentations from previous forums click here.