This committee is currently without a chair and is inactive.  If you are a member who is interested in environmental isses and would like to chair or co-chair this committee, please contact grybm [at] outlook.com (Gwendolyn Miller).  A league member who has previously been very active in this commitee is willing to assist whoever is willing to chair this committee.
The League of Women Voters of Sussex County considers the protection of our environment and natural resources to be a priority.  As stated on the national League's website: "The preservation of the physical, chemical and biological integrity of the earth's ecosystem is essential for maximum protection of public health and the environment. The interrelationships of air, water and land resources should be recognized in designing environmental safeguards. The federal government should have the major role in setting standards for environmental protection and pollution control."
The LWVSC seeks to increase public awareness of the influence of human activities on the ecosystem, the efforts to balance the resource demands of industry and the public, and what we can do to influence local government to protect public health and the environment.  As a nonpartisan organization, the League of Women Voters encourages informed and active participation in government and seeks to influence public policy through education and advocacy.
Clean Water:
As residents of Sussex County, we have witnessed the effects of rapid growth in residential development and agricultural industries on our natural resources.  Clean drinking water has become a serious concern, with many wells polluted by chicken processing plants and waste disposal.  As a result of those concerns, the Environment & Natural Resources Committee held a series of forums in 2018 to raise awareness of the current well-water contamination and ongoing threats to public health and the environment in Sussex County. 
Details from those forums  with links to the power point presentations, videos, etc., can be found here.
Advocates for clean water in Delaware, including the League of Women Voters of Delaware, have joined together in The Delaware Clean Water Alliance .  This is a broad-based coalition of organizations and stakeholders across the state working together to secure funding for clean water initiatives and to educate people about the importance of clean water. Dedicated funding for clean water is essential for a cleaner environment, healthier crops and food sources, improved economy, and increased tourism.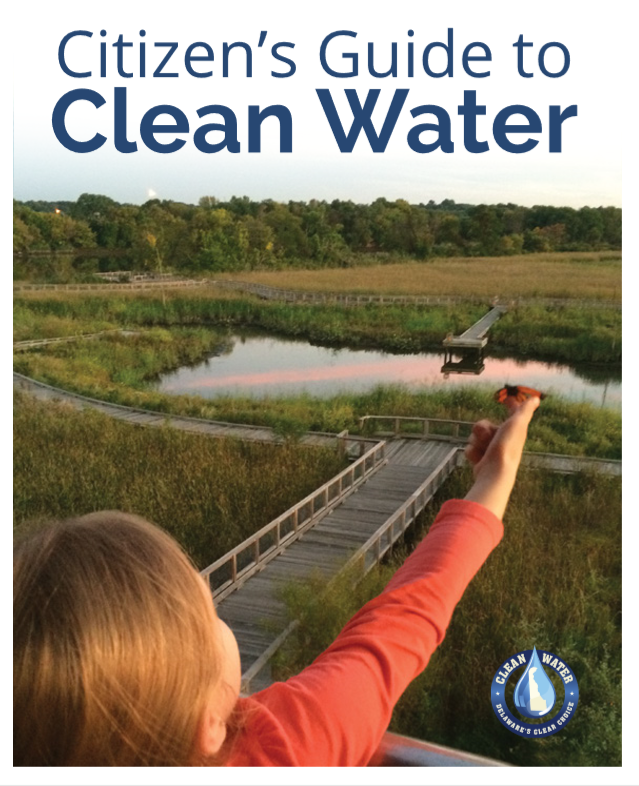 The Delaware Clean Water Alliance released a online resource called, Citizen's Guide to Clean Water.  It provides valuable information about Delaware's watersheds, the need for additional clean water funding, information on the legislative process, how you can lobby for change, and become involved, etc.  Please click on the adjacent graphic to view this complete guide for ways you can help protect your water.
Additional Environmental Issues:
The LWVSC has explored ways to raise awareness of environmental concerns and how to protect our natural resources.  In addition to concerns about the quality of drinking water in Sussex County, the E&NR committee identified other issues, including improved use of land buffers in new developments, pollution from local industrial compost sites, writing and promoting legislation, etc.   
Resources