The League of Women Voters of Sussex County considers the protection of our environment and natural resources to be a priority.  As stated on the national League's website: "The preservation of the physical, chemical and biological integrity of the earth's ecosystem is essential for maximum protection of public health and the environment. The interrelationships of air, water and land resources should be recognized in designing environmental safeguards. The federal government should have the major role in setting standards for environmental protection and pollution control."
The LWVSC seeks to increase public awareness of the influence of human activities on the ecosystem, the efforts to balance the resource demands of industry and the public, and what we can do to influence local government to protect public health and the environment.  
Current Legislative Issues
Though the Clean Water for Delaware Act (HB270) was tabled (see article), Governor Carney included $6 million for clean water funding in his budget proposal for Fiscal Year 2019 (FY2019).   It is up to Delaware's Joint Committee on Capital Improvement (also known as the Bond Bill Committee) to write the Annual Bond Bill, which will detail capital improvements for the FY2019 budget.
This committee will host a public hearing on funding related to clean water on Thursday, May 17th at 9:30AM in the Joint Finance Committee Hearing Room (basement of Legislative Hall), 411 Legislative Ave, Dover.
Please contact members of the Bond Bill Committee to let them know how important clean water funding is to you.  If you plan attending the public hearing, please let Clean Water: Delaware's Clear Choice know.  RSVP here.
LWVSC
Forum on Clean Water
As residents of Sussex County, we are witnessing the effects of rapid growth in residental development and argicultural industries on our natural resources.  Clean drinking water has become a serious concern, with many wells polluted by chicken processing plants and waste disposal.  On March 13th, 2018, the League presented a well attended forum entitled, "Safe Drinking Water??  Everyone's Concern." in Sussex County Council Chambers, Georgetown.  

The League's aim for this presentation was to raise awareness of current well-water contamination and ongoing threats to public health and the environment in Sussex County.  The forum focused on shortcomings of wastewater and agricultural sludge disposal that lead to continuing pollution of residential wells.  A panel of experts discussed the scope of polluted sites, inadequate zoning practices, and the current lack of regulation enforcement which has led to groundwater contamination at sites such as Mountaire Farms in Millsboro.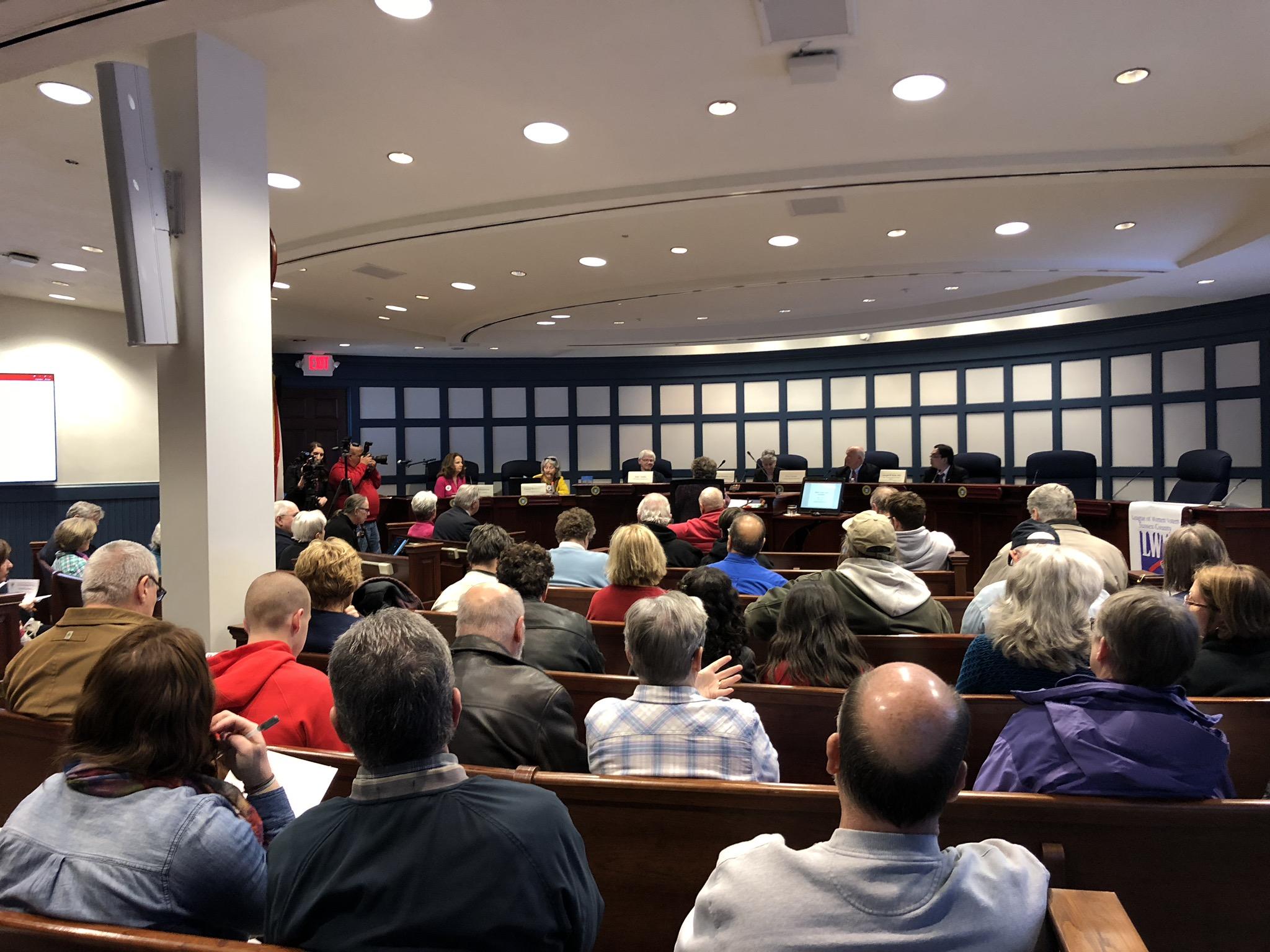 The speakers and their power point presentations follow:
John Austin, EPA Expert Chemist and Certified Drinking Water Lab Inspector (ret.), discussed the toxicity and health impacts of nitrate, why it is regulated, and the wastewater spray and agricultural sludge disposal sites currently contaminating residential wells in Sussex County.
 Nitrate in Sussex County Ground Water  (Austin)
Andrea Green, Attorney, and Tony Scarpa, Realtor, co-founders of "Keep Our Wells Clean," explained the negative environmental impact of the planned Artesian disposal of Allen Harim's wastewater in Milton and address the recently discovered contamination coming from the operations of Clean Delaware LLC, a septic tank waste disposal company in Milton. 
Artesian Northern Sussex Regional Wastewater Recharge Facility & Allen Harim Poultry Processing, Impact on Water (Green)
Clean Delaware, LLC Case Study of Nonpoint Source Pollution (Scarpa)
Dr. Joseph Kim, Chair of Nanticoke Integrated Health Alliance, shared his medical concerns about the health impacts of water supplies contaminated with Nitrate and describe the various public health initiatives he supports.