On March 13, 2018, a forum was held in Sussex County Council Chambers  entitled: "Safe Drinking Water??  Everyone's Concern."  The well attended forum focused on shortcomings of wastewater and agricultural sludge disposal that lead to continuing pollution of residential wells.  A panel of experts discussed the scope of polluted sites, inadequate zoning practices, and the current lack of regulation enforcement which has led to groundwater contamination at sites such as Mountaire Farms in Millsboro.
Due to the heavy attendance of the initial forum and the concerns for the issue expressed by the public, the Environment & Natural Resources Committee of the LWVSC decided to hold a second forum as a continuation of the one held in March.  It was called, "Safe Drinking Water??  Everyone's Concern, Part 2."  The League's aim in hosting this presentation was not only to raise awareness of current well-water contamination and ongoing threats to public health and the environment in Sussex County, but also to stress the need for the public to insist on long-term solutions.  The speakers presentations were followed by a question and answer period where the public was welcome to submit questions regarding their concerns on the issues addressed. 
On October 6th, the Committee held the LWVSC Water Warriors Expo, part 3 of its "Safe Drinking Water??  Everyone's Concern" forum.  Organizations and groups concerned about the environment, particularly water quality, were given the opportunity to provide the public with information about their environmental initiatives.  Several legislators and candidates attended.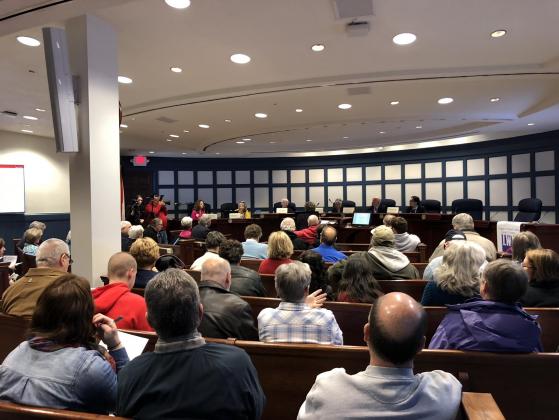 Safe Drinking Water??  Everyone's Concern, Part 1

 


 The speakers and their power point presentations follow:
John Austin, EPA Expert Chemist and Certified Drinking Water Lab Inspector (ret.), discussed the toxicity and health impacts of nitrate, why it is regulated, and the wastewater spray and agricultural sludge disposal sites currently contaminating residential wells in Sussex County.
 Nitrate in Sussex County Ground Water  (Austin)
Andrea Green, Attorney, and Tony Scarpa, Realtor, co-founders of "Keep Our Wells Clean," explained the negative environmental impact of the planned Artesian disposal of Allen Harim's wastewater in Milton and address the recently discovered contamination coming from the operations of Clean Delaware LLC, a septic tank waste disposal company in Milton. 
Artesian Northern Sussex Regional Wastewater Recharge Facility & Allen Harim Poultry Processing, Impact on Water (Green)
Clean Delaware, LLC Case Study of Nonpoint Source Pollution (Scarpa)
Dr. Joseph Kim, Chair of Nanticoke Integrated Health Alliance, shared his medical concerns about the health impacts of water supplies contaminated with Nitrate and describe the various public health initiatives he supports.  
Safe Drinking Water??  Everyone's Concern, Part 2


The speakers and their power point presentations follow:  
Lisa Borin Ogden,

Deputy Secretary of DNREC, discussed the role of DNREC in protecting Delaware waters, their challengees, pollution reduction methods, and water quality improvement methods.

 
Protecting Delaware's Waters, "Everyone Has a Role"
Keith Mensch,

Program Administrator, Division of Public Health, Office of Drinking Water,  explained what ODW does and how it regulates public water systems.


Office of Drinking Water
Dr. Mohammad Akhter, 

former director of the American Public Health Association

, discuessed nitrates in Sussex County ground water, local areas of well water contamination, the effects of that contamination, and the responsibility of elected and appointed officials.
Clean Drinking Water for All 
Safe Drinking Water??  Everyone's Concern, Part 3
Water Warriors Expo
On October 6, 2018, the Environment and Natural Resources committee of the LWVSC held a Water Warriors Expo at the Milton Fire Company.  An article on the event can be found here.