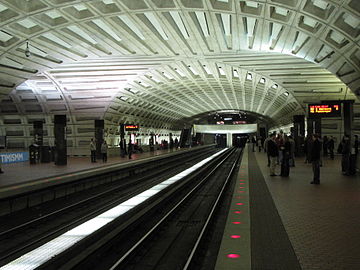 LWVNCA UNDERTAKES "FUND IT + FIX IT" (FIFI) ACTION PLAN SUPPORTING DEDICATED FUNDING FOR METRO
Background | Not for NOVA ONLY |  Article in Fairfax Voter |  League Reports, April 2018 | The Icing on the Cake

August, 2017:  The National Capital Area Leagues undertake "Fund it + Fix It" (FIFI) Action Plan supporting funding for Metro*
Some 40 years after the League of Women Voters of the National Capital Area (LWVNCA) adopted positions in support of Metro (i.e., Washington Metro Area Transportation Authority-WMATA), including a dedicated source of funding for the then-new rapid transit system, it has joined with more it has joined with more than a dozen nonprofit organizations (later to grow to over 20 organizations) in backing a call for dedicated funding for the system. While a major emphasis of the original positions was to get people out of their cars, along with the need for adequate financing, the current emphasis is to obtain the funding that will allow Metro to fix the system so that it will continue to reduce traffic congestion in the DC area--while serving as the economic engine for the region.
A major impetus for action to solve Metro's funding crisis has been the recent studies and reports issued by major components of the civic structure in the region addressing both the problem and proposed solutions. These include: the Council of Governments, business groups, chief administrative officers of local jurisdictions, Metro General Manager Paul Wiedefeld, Amalgamated Transit Union Local 689, and the Virginia Department of Rail and Public Transportation Transit Capital Project Revenue Advisory Board as well as support from regional faith groups, the Coalition for Smarter Growth, environmental groups, etc. As the heading for a recent article by Greater Washington noted, "Almost everyone agrees WMATA needs funding." At this time (August, 2017), there is major anticipation of the results of a review by the LaHood Commission initiated by Virginia Governor Terry McAuliffe and of an August 28, 2017  summit at Mt. Vernon where Governors McAuliffe (VA) and Larry Hogan (MD) and District Mayor Muriel Bowser will discuss how to fund Metro.
Not waiting for agreement on the amount of funding required to get Metro healthy and keep it that way, or the specific methods to be used to obtain the revenue, the League and other groups are moving ahead with plans to generate support for whatever plans are eventually proposed for adoption by the three WMATA jurisdictions (District of Columbia, Maryland and Virginia + DMV)
LWVNCA Metro Funding Action Co-Chair Edith Snyder represented the LWV in an August 18, 2017 webinar on Metro hosted by the Virginia Conservation Network in conjunction with the Coalition for Smarter Growth (CSG). "Metro 101: Building the Conservation Case for a Strong Metro System in Virginia" tied climate change to the transportation sector, underscoring the critical importance of accessible public transportation throughout the Commonwealth. Stewart Schwartz and Pete Tomao of the Coalition for Smarter Growth provided background on the connection between climate and transportation in Virginia and detailed the ways in which Metro, in particular, is currently underfunded and in dire need of repairs.
Snyder, Co-chair with Nancy Soreng of LWVNCA's Metro Action committee, described for the webinar attendees the League's long-time commitment to Metro. "The League supported the system when it was first proposed and constructed, and we're not about to abandon it now," she said. Snyder noted that the League of Women Voters will celebrate its 100th anniversary in 2020 and that it is an organization built on grassroots advocacy. It is this legacy that LWVNCA and its member local Leagues in Virginia, Maryland, and the District of Columbia are bringing to activities in support of the Metro funding needed to provide frequent, reliable service. In particular, the regional League is:
Hosting a forum with CSG on October 7, 2017, titled "METRO Fund It + Fix It! A Call to Action." This event will be held at NRECA, the National Rural Electric Cooperative Association, 4301 Wilson Blvd, Arlington, VA 22203, from 9:30 am to 2:00 pm. All Leagues in Virginia are invited to attend. The forum will feature an opening panel on Metro's history, value and economic benefits, challenges, and proposed fixes. This session will be moderated by radio station WAMU's Martin Di Caro and followed by a presentation of the "Fund It, Fix It Campaign" by LWVNCA, CSG, and other nonprofit organizations. This will lead into breakout sessions focusing on facilitated development of specific grassroots action plans for jurisdictions in DC, Maryland, and Virginia. Snyder said the goal is for all attendees to leave the forum empowered and equipped to advocate for effectively funding a dependable Metro.
Producing a fact sheet about Metro for the forum and general distribution.
Working with CSG to create and circulate a petition to canvass and organize Metro riders who support the call for Metro funding and improved service.
Creating candidate questions about Metro for Virginia's November 2017 state and local elections.
Not for NOVA ONLY 

LWVNCA asked that all LWV members in Virginia support both the call for approval of a method of funding Metro's capital and operating needs and for transit throughout the Commonwealth, because all are affected by its economic, social, and environmental benefits.
The billions of dollars of projects built near Metro generate tax revenue not only for NOVA, but Metro generates economic activity worth some $600 million per year in state income and sales taxes. What state support of local services would be affected by a state revenue shortfall due to a failing Metro? Will businesses move to other more supportive locales or not move to Virginia in the first place and how will this affect state revenues?
How could seniors, millennials, and the disabled and low income residents lacking cars survive without Metro or other local transit?
65% of Virginia's population and 65% of its gross state product are located in the "urban crescent" from Hampton Roads to Richmond, Frederick to NOVA, and most of its growth is projected in the corridor. Without transit, how would these areas continue to attract the people and business to keep Virginia strong?
With traffic congestion getting to be a problem with state-wide impact, how would greater reliance on the automobile affect Virginia's everyday living, the transportation of goods, and its environment and contribution to climate control?
And lest we forget, how would more traffic and congestion and less Metro and other transit in Virginia affect emergency preparedness and plans?
If Metro fails, how many Virginia jobs are lost either directly or in the construction of Metro cars and systems?
League members Therese Martin, Edith Holmes Snyder, and Deb Wake contributed to this article.
In March 2018 the LWVFA published an extensive background article about Metro's needs in its March 2018 Fairfax VOTER.   The iintroductory "blurb" described it as:

   Metro: Fund It/Fix It (FIFI) W
hat Is It and What Is Going On?
"FIFI" Is Not a French Poodle—It's a Solution to Metro's Problems and We Are Part of It.

You may have heard lately that Metro is in trouble. The League of Women Voters of the National Capital Area (LWVNCA), of which LWVFA is a member, is working to be a part of the solution. LWVNCA has joined of a coalition of 22 organizations—called "FIFI"— which is an acronym for "Fund It/Fix It," and its sole purpose is to "get Metro back on track" (pun intended). Read this comprehensive article; learn when and why the League became an early and continuing supporter of Metro and discuss how we can be part of the solution which affects all of us, including Fairfax County and City, as well as the rest of the metropolitan D. C. area
THE NEWS MEDIA DOCUMENTED THE LEGISLATIVE PROGRESS TO ITS SUCCESSFUL CONCLUSION: Back to Top
2.20.2018 - The Washington Post : Hopes run high for historic Metro deals in Maryland and Virginia, but crucial details remain unresolved (link) https://www.washingtonpost.com/local/trafficandcommuting/hopes-run-high-...  
3.02.2018 - The Washington Post  Breakthrough in Maryland on Metro funding, as Hogan and legislature come together (link) https://www.washingtonpost.com/local/trafficandcommuting/breakthrough-in... 
3.10.2018 WashPost Breakthrough in Virginia on Metro Funding as Lawmakers Approve $154 Million
3.22.2018 WashPost Metro Gets Third and Final Yes as MD commits to full share of dedicated funding
 Back to Top
League leaders filed the following Action Report to LWVNCA Board of Directors, April 2018
Metro Funding Virginia
Virginia passed SB856 and HB1539 to establish funding for Metro and to provide a floor to the gas tax at the February 20, 2013 level.  A conference committee met to hammer out the differences in the bills.  We are very thankful that the full $154 sought was agreed to, the problem is that the source of these funds are already designated for other Northern Virginia Transportation projects.  Ideally, the state should provide more of the funding (rather than coming from Northern Virginia) since the revenue generated by Metro goes to the state general fund and should not take away from projects already underway or being planned.
As part of the Fund-It, Fix-It Coalition (or FIFI), a letter was sent to Northern Virginia legislators to support the current legislation as passed if no other funding is identified.  I'm pleased that so many League presidents signed the letter which can be found here:   The Coalition on Smarter Growth sent the letter but we wanted to be sure the letter went to a large audience of Virginia legislators.  Sue gave permission to send the letter on behalf of the state league and I emailed the letter to the Metro Bill Conferees, the Budget Conferees, House Transportation Committee members, Senate Transportation Committee members, House Appropriations Transportation Subcommittee members, and Senate Finance Transportation Subcommittee members--over 50 legislators across the state.  I received many nice responses and I think this sets the League up nicely in strengthening/establishing relationships with legislators.
Although the Metro funding bills have passed the Virginia legislature, the budget has not [was subsequently passed].  As the legislature continues to work on the budget, we're hopeful new funding sources will be identified. The House passed Medicaid Expansion (which the Governor strongly supports), the Senate did not include Medicaid Expansion in its budget; Medicaid Expansion would make nearly $400 million more funds available.  This is a key piece that will be worked out when the chambers reconvene on April 11 for a special session that is set to conclude by April 18 with a budget agreement.   
By Deb Wake, LWVFA Metro Committee Chair
Metro Funding Maryland
The Maryland Metro Funding Act was amended in the Senate to the full $167 million of dedicated funding that is Maryland's share of the $500 million goal based on the current funding formula. The Senate version goes back to the House where passage is expected.  Following that, it will go to the governor for his signature. 
The title of the bill was changed to: HB 372 Maryland Metro/Transit Funding Act to reflect that in addition to raising the amount for Metro it also contains an increase in funding for MTA which serves every county in the state and mandates the development of a public transportation plan for central Maryland.
Metro Funding District of Columbia 
The District of Columbia has committed to providing their full share of $178.5 million. The 2019 budget Mayor Muriel E. Bowser proposed Wednesday includes increasing the sales tax and adding taxes on commercial property and ride-hailing services such as Lyft and Uber to pay for Metro.
                                                                                                                                      By Nancy Soreng, LWVNCA FIFI Co-Chair
The Icing on the Cake!
LWVNCA Receives 2019 Sanders-Henn Community Hero Award Award from the Coalition for Smart Growth (CSG)
The Coalition for Smarter Growth celebrated the 16th annual [Frederick & Diana] Prince Livable Communities Leadership Award with a reception on Tuesday, April 23, 2019 at the Tico Restaurant, 1926 14th Street, Washington, D.C.
Former Prince George's County Executive Rushern Baker was awarded with the 2019 Prince Livable Communities Leadership Award and the region's League of Women Voters (of the National Capital Area) received the 2019 Sanders-Henn Community Hero Award winner for their role in winning dedicated funding for Metro.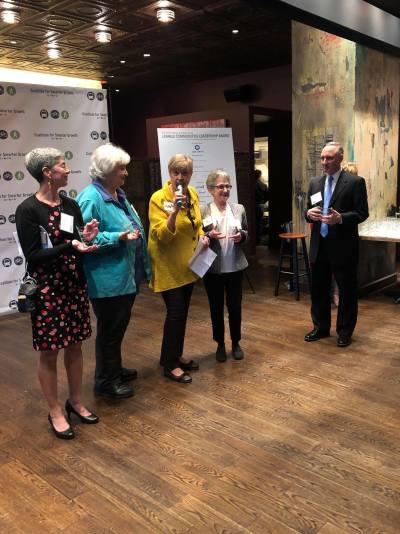 Pictured are representatives of LWVNCA state Leagues, DC, MD & VA receiving the award on behalf of the Metro Fund It/Fix It (FIFI) committee. From L to R: Deb Wake (VA), Anne Anderson (DC), LWVNCA Pres. Kathy McGuire, Elaine Apter (MD), andStewart Schwartz, CSG Exec. Director
https://www.washingtonpost.com/local/trafficandcommuting/breakthrough-in... 
https://www.washingtonpost.com/local/trafficandcommuting/metro-gets-3rd-...