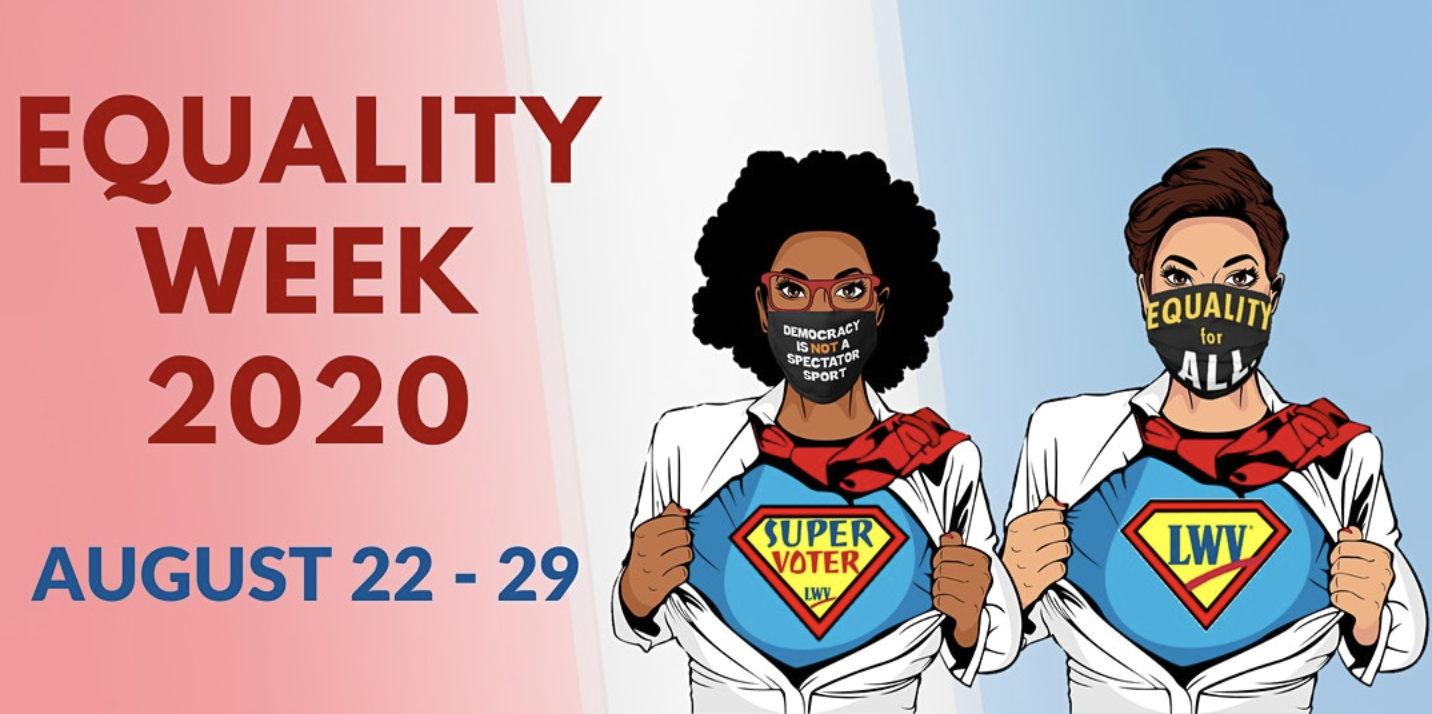 The League of Women Voters envisions a democracy where every person has the desire, the right, the knowledge and the confidence to participate in the democratic process. For 100 years, we have worked as a nonpartisan, grassroots organization to register voters, educate citizens, and advocate for a more perfect democracy. 
Recognizing that the passage of the 19th amendment in 1920 was simply a milestone within an ongoing struggle rather than a final victory, the League will be hosting a series of events to highlight the past, present and future of women's voting rights and the continuing fight for diversity, equity and inclusion.
We are inviting organizations and individuals not only to attend but also to co-sponsor the event. Your generous support of the League of Women Voters of Georgia and this event will help us educate and engage voters on issues central to our democracy.  In return, we offer public recognition and association with the League's name and accomplishments. All event sponsors will be listed on our website, social media, print and electronic media – plus additional benefits based on donation amount. 
Equality Week 2020 sponsorship ensures that your organization will be promoted in front of a vast and diverse community across the state of Georgia and beyond - including consumers, community leaders, students, educators, veterans, and more.  
I look forward to discussing this opportunity with you further. After payment is confirmed you will receive an email closer to the event date with the links to register for each Zoom event.  If your sponsorship level comes with certain benefits, we will reach out to you using the contact information you provide.
Linda Bridges

Event Chair

LWVGA Director

linda [at] lwvga.org or 678-670-4598

Gayla S. Keesee, PhD

Chair, LWVGA Women' Suffrage Centennial Task Force

Chair, Communications

gayla [at] lwvga.org or 706-414-6515
.                                     
Please Note: Your charitable gift to the League of Women Voters of Georgia, a 501(c)(4) organization, is not tax-deductible. Your gift will support our work to increase understanding of major public policy issues through education advocacy. Please contact us if you would like to support the League's Education Fund and make a tax-deductible donation.
League of Women Voters of Georgia
P.O. Box 177 - Decatur, GA 30031
 ________________________________________________________________________________________
Empowering voters and defending democracy in Georgia takes a lot of work and energy from our incredibly dedicated volunteers. It also takes money! Please consider donating at a sponsorship level to support our mission.
Equality Week 2020 Sponsorship: $3000             
This opportunity helps to underwrite the cost of the League's initiatives to Make Democracy Work – molding political leaders, shaping public policy and promoting informed citizen participation at all levels of government. 
Co-brand the event series with your company logo

Name and/or logo displayed on LWVGA Equality Week 2020 promotional channels, including LWVGA Facebook, local League Facebook pages, Instagram and League event website page, e-blast announcements (circulation 3,000+)

Name and logo featured on Zoom backdrop for all events 

Logo on back of Equality Week T-Shirt

Name and logo featured on the LWVGA homepage for the months of August, September, October

Special recognition and "shout-out" at each event

Access to ALL events for 6 attendees

Swag bag of items from our Zazzle store - includes Equality Week T-shirt and matching facemask plus other goodies

Entries into Raffle for door prizes at each event
Making Democracy Work Sponsorship: $1000                                   
This opportunity helps to underwrite the cost of the League's award-winning voter education programs, trusted and sought-after voter information guides, and efforts to mobilize voters and get them to the polls. Help underwrite one of our featured events: Power of the Voter (August 22) or Women Power the Vote (August 26) 
Name and logo featured on Zoom backdrop for each event 

Name and/or logo displayed on LWVGA Equality Week 2020 promotional channels, including LWVGA Facebook, local League Facebook pages, Instagram, League event website page, e-blast announcements (circulation 3,000+)

Social media spotlight on your organization 

Name and logo featured on the LWVGA homepage for the months of August, September, October.

Logo on back of Equality Week T-Shirt

Special recognition and "shout-out" at the event

Access to ALL events for 4 attendees

Swag bag of items from our Zazzle store - includes Equality Week T-shirt and matching facemask plus other goodies

Entries into Raffle for door prizes at each event
Your Vote - Your Voice Sponsorship: $500                                                
We envision a democracy where every person has the desire, the right, the knowledge and the confidence to participate. This sponsorship opportunity helps to underwrite the cost of the League's initiatives to inform and engage voters not only in the election process but also in democracy. Help underwrite our community discussions, film screenings, and author talks.  Legalize Equality - Ida B. Wells Film & Author Talk - The New Jim Crow - A'lelia Bundles
Listed as a sponsor on the LWVGA website and Equality Week T-Shirt

Name and logo featured on Zoom backdrop for single event

Name and/or logo displayed on LWVGA Equality Week 2020 promotional channels, including LWVGA Facebook, local League hosts Facebook pages, Instagram, League event website page, e-blast announcements (circulation 3,000+)

Logo on back of Equality Week T-Shirt

Access to all events for 3 attendees

Swag bag of items from our Zazzle store - includes Equality Week T-shirt and matching facemask plus other goodies

Entry into Raffle for door prizes at each event