While the overall population of the state and city continue to decline, the Latino population is not only increasing, it is driving the local economy, according to Sylvia Puente, speaker at the Chicago in Focus program on March 18. Puente, executive director of the Latino Policy Forum, shared some statistics about the effects of Latinos on demographics, the state's middle class and the overall labor force: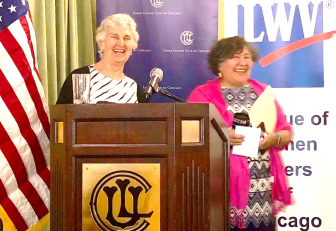 With a 43%-increase in the number of Illinois 

residents, Latinos accounted for all of the state's population growth between 2000 and 2013. Latinos make up 17% of Illinois' total population.

The proportion of Latino households earning more than $75,000 rose 110% over the same time period. More than 25% of Latino households are considered to be middle class.

The number of Latinos in the state work force increased by 59%. Latinos accounted for the vast majority (77%) of the overall growth in the labor market.
Overall, 63% of Illinois Latinos in 2013 were born in the United States, and 12% were naturalized citizens. Nearly all (96%) of Latinos under the age of 18 and 64% of adults were U.S. citizens, she told the audience at the March 18 Chicago in Focus program, cosponsored by LWV Chicago and Union League Club.
Census 2020
U. S. Commerce Secretary Wilbur Ross has proposed adding a question on citizen ship to the 2020 census. The Trump Administration has argued that the question should not be controversial. In a press briefing in March, White House Press Secretary Sarah Huckabee Sanders said that answers to the question will provide data "that's necessary for the Department of Justice to protect voters…"
Nevertheless, the court of the Northern District of California ruled recently that the citizenship question would depress response rates among immigrants and noncitizens and distort congressional representation. "The inclusion of the citizenship question on the 2020 Census threatens the very foundation of our democratic system, Judge Richard Seeborg wrote in his decision.
Illinois is among a group of states and cities that are suing to block inclusion of a asking whether the census respondent was born in the U.S. or its territories, is a naturalized citizen or a non-citizen.
LWUS believes including a citizenship question in the 2020 Census will not only severely decrease participation and threaten the accuracy of the Census; it also violates data privacy rules.
Consequences for Illinois: If Latinos DO NOT fill out and turn in their census, Puente pointed out:
They will not be appropriately accounted for, and therefore funding will not be appropriately allocated to the community.

The state may lose another congressional seat. Because of overall population decline, Illinois is already slated to lose one congressional seat. The citizens of the state cannot afford to lose another.
LWVUS has prepared a series of talking points on this issue.
League to which this content belongs:
Chicago