Great Decisions Discussion Group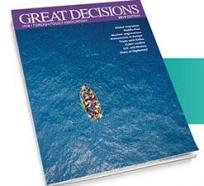 League members and their friends are invited to join a Chicago League-sponsored Great Decisions foreign policy discussion group that will meet on Tuesday afternoons from 1 pm to 3 pm in the Aqua building (225 N. Columbus Drive) from February through May. The group will generally meet every 2 weeks to discuss the 8 topics covered by 10-12 page articles in the Great Decisions booklet published by the non-partisan Foreign Policy Association. Cost of the booklet and related materials is expected to be around $30.
Following are the dates and topics:
February 5: Refugees & Global Migration
February 19: The Middle East Regional Disorder
March 5: Nuclear Negotiations, Back to the Future?
March 19: The Rise of Populism in Europe
April 16: Decoding U.S.-China Trade
April 30: Cyber conflicts and Geopolitics
May 7: The U.S. and Mexico: Partnership Tested
May 21: State of the State Department and Diplomacy
Participating is a wonderful way to get to know people while you are expanding your interests and knowledge. At each session, we also watch a short video program on the topic before beginning a discussion led by one of the participants who volunteers to do so. You need not have any background in foreign policy or in the topics to be able to participate.
Besides the Tuesday afternoon group, additional groups will be formed if there is sufficient interest. Note that the League has also sponsored a group that meets on Monday evenings during the summer months at the north side Sulzer Regional Library. Information about signing up for that group will be provided. If you (and any of your friends) are interested, please RSVP to express your interest or requestion more information.
League to which this content belongs:
Chicago