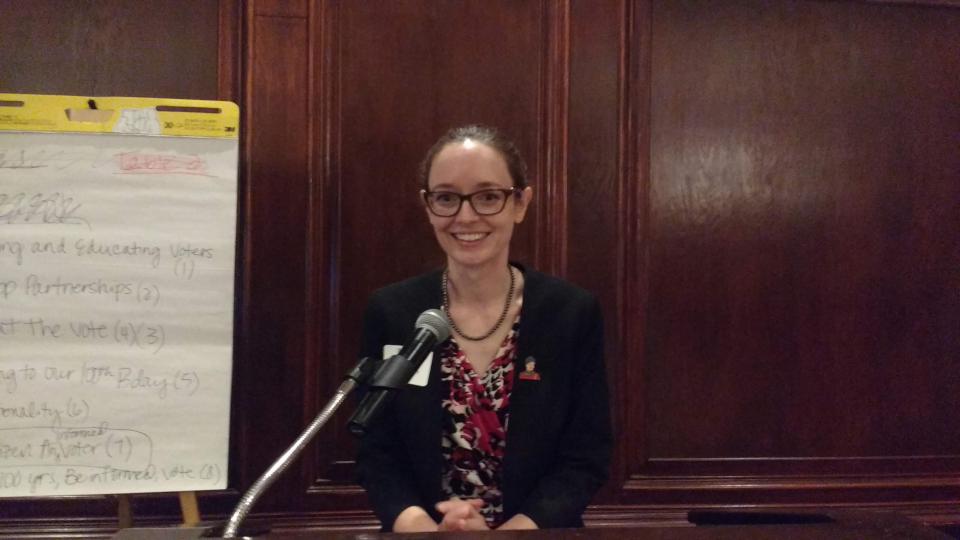 Around November 2016, I decided to become more politically engaged. I read somewhere that politics does not happen every four years—it happens every day in the city and the state that you live in, and those are the policies that affect your everyday life. 
Short of reading the Sun Times every day, I didn't know how to become more engaged with local politics, but somehow I stumbled across the League of Women Voters. I came to my first League meeting before Thanksgiving and I joined by Christmas.
I joined the League with the explicit goal of becoming more politically engaged at the local level, and I've been a League member for eighteen months now. Did the League of Women Voters of Chicago help me become a more politically active citizen? Yes!
The first six months I was in the League, I went to lots of briefings and Chicago in Focus talks.  They were great! I learned so much about so many different topics, and I met so many wonderful people in the League.
Everything changed for me at the Galvanize summit hosted by United States of Women last July in Chicago. I wore my League pin the whole weekend and lots of people came up to talk to me just because I was in the League. Because of that one weekend, I met people from different organizations all over the city involved in lots of different types of activism.
I ended up getting involved with passage of the ERA in Illinois. There are many women in the League who were involved with the ERA in one way or another for many, many years. My contribution feels small, but I was more connected and involved than I would have been without the League. 
I met Kina Collins at Galvanize, who is the Chairwoman of the Illinois Council on Women and Girls. She asked me to be part of her team of people who would build a coalition of supporters that would pass the bill to establish the Council. I'm also involved with the Ida B. Wells Committee. 
All of these things have been extremely fulfilling personally. Most importantly, I've learned a lot about how the politics of Chicago, Cook County and Illinois work. And I'm always learning more from my fellow Leaguers. 
I have also been involved in voter registration events at retirement homes and at marches. When our state rep, Barbara Flynn Currie, announced her retirement, I helped with the candidate forum before the March primary. Thanks to all of the education and resources provided by the League, I felt like an educated voter at all levels of our democracy. 
All of these experiences are just a laundry list of things that I have participated in. This list does not capture the depth and meaningfulness of my relationships with fellow Leaguers. The League has offered me support, friendship, mentorship and an ongoing education in how politics works and how I can contribute.
Thank you to everyone in the League of Women Voters of Chicago for being such an amazing part of my life for the last 18 months!
—By Melanie Norstrom
League to which this content belongs:
Chicago