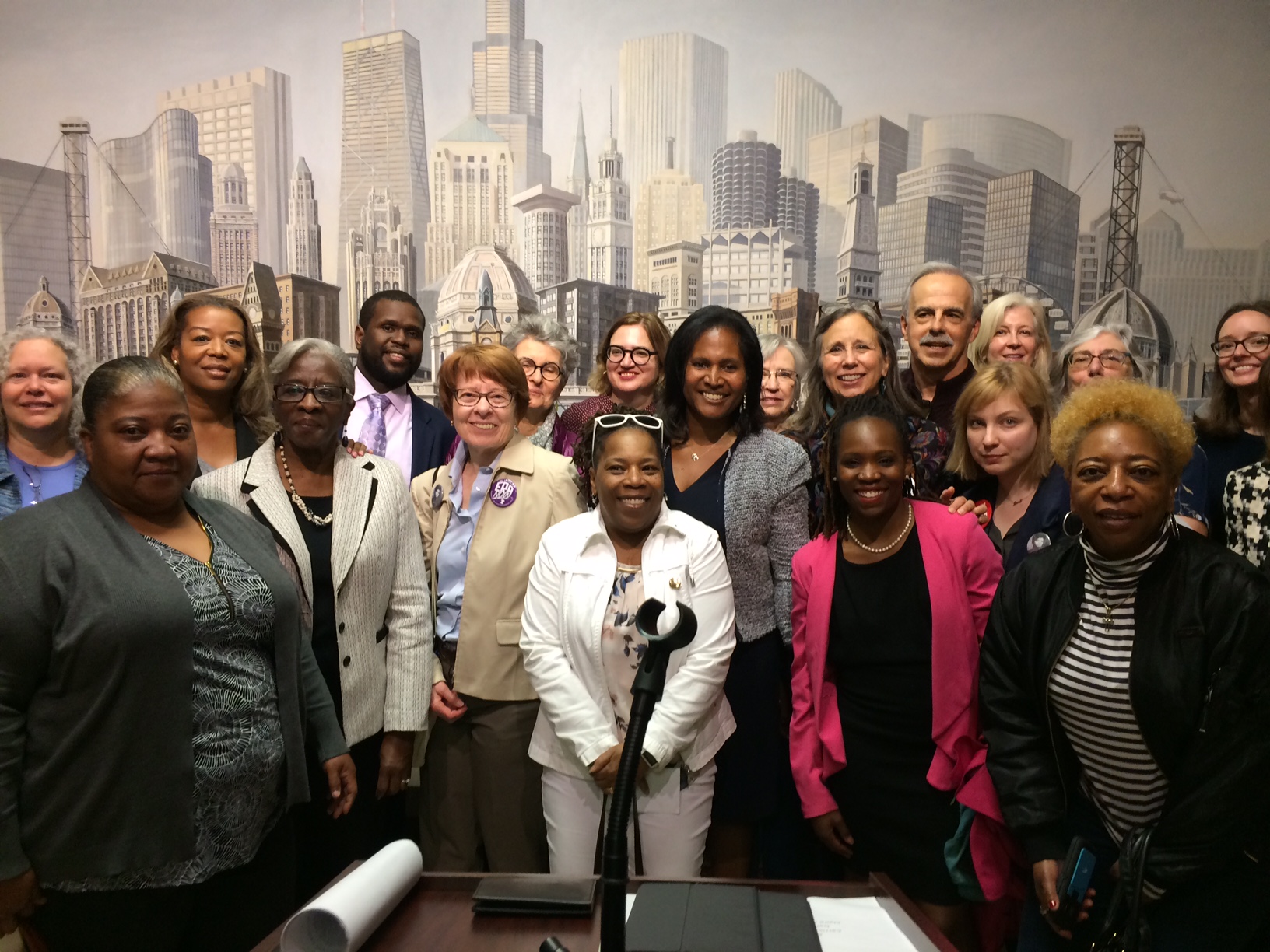 In the wake of the Charlottesville confrontation and ensuing demands for the removal of offensive monuments, a number of aldermen in Chicago began to call for the removal of tributes commemorating the fascist warlord Italo Balbo. Annie Logue, President of the League of Women Voters of Chicago, proposed that Balbo Drive be renamed after Ida B. Wells-Barnett.
In late 2017, LWV Chicago members reached out to members of Wells' family for their input. With consent of the family, the LWV Chicago South Side unit formed a working group to take the campaign on.

The group then gained the support of Aldermen Sophia King and Brendan Reilly, whose wards each contain Balbo Drive, and more than 50 other civic organizations signed on with their support as the project progressed (see list below).

On Wednesday, May 23, 2018, Aldermen King and Reilly proposed the ordinance to rename Balbo Drive to Ida B. Wells Drive. First, it needed to be passed out of the Transportation and Public Ways Committee before it could go to the City Council for a full vote. The ordinance was placed on the Committee's agenda for their meeting in late June, only to be pulled from the agenda just days before the meeting. 
The League jumped into action, but opposition from the Italian-American to renaming Balbo Drive had swayed some aldermen against the campaign. However, many were still in favor of honoring Ida B. Wells with a downtown street, and Congress Parkway was chosen to be renamed instead.
On July 19, the Transportation Committee voted unanimously to rename Congress Parkway for Ida B. Wells, and the full City Council voted to approve the measure on July 26, 2018. 
Interested how a campaign like this comes to be? Get the full story here. 
We would like to thank the 50+ organizations who have joined LWV Chicago in our efforts to effect this change: 
Access Living – Chicago
ACLU of Illinois
Action for a Better Tomorrow
Action Now
American Association of University Women, Chicago Branch
Black Girls Break Bread
Black Metropolis Research Consortium
Cause the Effect – Chicago
Center for Neighborhood Technology
Chicago Alliance Against Racist and Political Repression
Chicago Appleseed
Chicago Books to Women in Prison
Chicago Chapter of the National Organization for Women
Chicago Council of Lawyers
Chicago Democracy Project
Chicago Foundation for Women
Chicago Lawyers' Committee for Civil Rights
Chicago Neighborhood Alliance
Chicago Teachers Union Black Caucus - AFT
Chicago Urban League
Chicago Votes
Chicago Women Take Action
Chicago Women's History Center
Collaboraction
Community Renewal Society
Cook County Bar Association
Crossroads Fund
Edgewater Action
Equal Pay Day Chicago
Freedom Road Socialist Organization
GAP Community Organization
Gary Comer Youth Center
Gather Activism
Harriet's Daughters
Her Story Theater
Ida's Legacy
Illinois Council against Handgun Violence
Illinois Council on Women and Girls
Indivisible Illinois
Instituto del Progreso Latino
Jewish Council on Urban Affairs
Ladies of Virtue
League of Women Voters of Chicago
March for Our Lives Chicago
Monumental Women Project
NAACP - Chicago Southside
New Founders
Planned Parenthood of Illinois
Sierra Club Chicago Group
Rainbow Push
United Sciences of Chicago
Unlock the Block
Vivian G. Harsh Society
Women and Children First Bookstore
Women Employed
Women's March Chicago
Working Women's History Project
Young Urban Progressives
YWCA Metropolitan Chicago