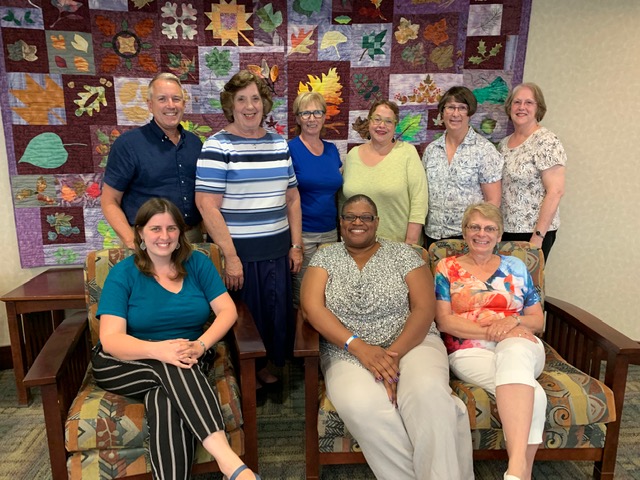 LWVGL is very excited about the 2018-19 year. The Leadership structure continues to consist of three executives: Barbara Clark (Business), Margaret Hass (Advocacy) and Deanna McMillan (Events). Additionally, we have Denise Ottinger (Treasurer and Nominating Committee representative), Barbara Kerkhoff (Secretary), Sallie Fahey (Environmental Sustainability), Candace Walters (Membership), Gretchen Bertolet (Communications Director), and Ken Jones (Voter Services). This mix of new and experienced Board Members is planning a Leadership Retreat sometime this summer to solidify our vision and move forward on our shared goals.
Our Annual Meeting was held on May 1, 2018. We were delighted to have over 50 people in attendance. We had an engaging speaker, Claudia Rubio Samulowitz, speak about immigration. The financial report was healthy and a new budget was approved. Our membership continues to increase, in fact we received an award from LWVIN for our increased membership numbers. The following existing programs were approved for 2018-19: Voter Services, Environmental Sustainability and Redistricting. The following new programs were approved pending leadership immerging to implement them: Mental Health, Substance Abuse, and Human Trafficking.
Voter Services implemented a very successful program called First Time, Life Time Voter in which they were able to work with the four local public high schools to register, educate and enable students to cast their first votes in the 2018 Primary Election. The League registered 779 high school student, from which 308 students cast votes for the first time. The County Election Board supported the program by establishing Vote Centers at each of the local high schools. The program will continue for the November 2018 general election.
These are just some of the exciting things that are happening at the LWVGL this year. The LWVGL Board meets the first Tuesday of the month from 6:00 – 7:30 pm at the West Lafayette Public Library. All members are welcome to attend Board Meetings. More information about the Mix and Mingles and the League Link Lunches, as well as events, can be found on our website.