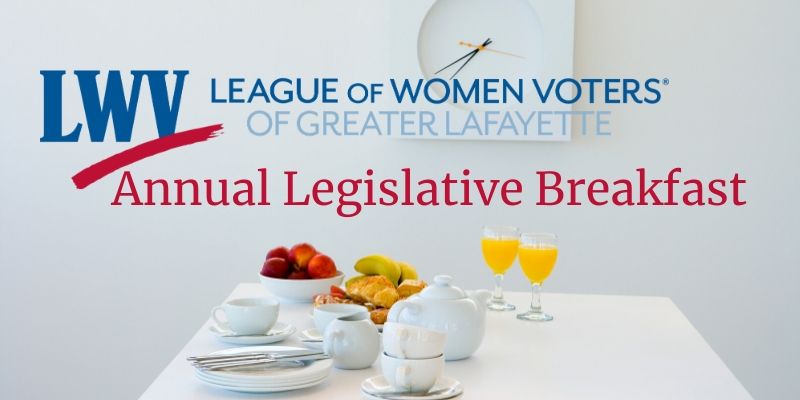 The League of Women Voters of Greater Lafayette will be hosting its Annual Legislative Breakfast on February 15, 2020 from 8:30 am to 11:30 am at Judi's Catering & Banquet Facility, 101 Plaza Lane, Lafayette.
The Legislative Breakfast provides community groups and constituents with the opportunity to ask questions and outline their collective concerns to a group of lawmakers and legislative leaders. The League is honored to host an event where our public officials willingly take time out of their schedules to offer their attention to key issues. A question and answer period will be followed by statements from each legislator summarizing their views of the session.
Breakfast will begin at 8:45 am. Legislative Forum will begin at 10 am.
Register for the breakfast
Attending the breakfast requires a reservation (made below) and costs $15 for League members and $20 to the general public. Reservations are required by early February (specific dates below depending on mode of registration).  If you only want to attend the Forum, you may attend for free beginning at 9:45 am (this requires no reservation).
Register for the breakfast using Paypal by Feb 7