New Orleans
           Join Us At Our Annual Meeting on July 27!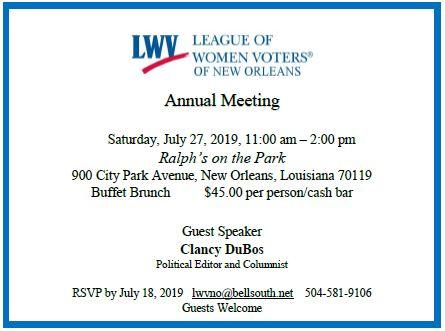 RSVP Extended to July 23. 
Members can pay at the door with cash, check, or credit card. 
                                                     
Human Relations Commission Charter Change Discussion
with the Director of the Human Rights and Equity Council & City Council Members
************************
MAKE

 

DEMOCRACY WORK
EMPOWERING VOTERS. DEFENDING DEMOCRACY.
We challenge all efforts and tactics that threaten our democracy and limit the ability of voters to exercise their right to vote.
 The Primary Election for the Governor, all state-wide offices, state representatives and state senators will be October 12, 2019.  The General/Run-off Election is November 16. Voter registration in person or by mail closes September 11 for the primary and October 16 for the general election.  Internet voter registration closes September 21 and October 26.
EQUAL RIGHTS AMENDMENT : "Equality of rights under the law shall not be denied or abridged by the United States or by any State on account of sex"
READ LETTER TO THE EDITOR BY LWVNO PRESIDENT ROSALIND COOK EXPLAINING THE ERA AND WHAT IT WILL MEAN TO CITIZENS.
  Two League of Women Voters members have been highlighted as among the leaders who have made a difference in the 300 years of New Orleans History.  Read about Felicia Kahn and Elizebeth Werlein.  The League of Women Voters develops leaders.