Thursday, September 17, 2020 - 7:00pm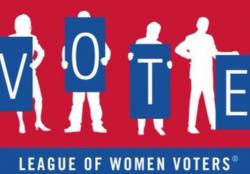 Voter Service Round-Up 
Are you interested in becoming more involved with our
Voter Services Activities?
Jen Oliver, our Voter Service Chair, and her team will share ways to get involved throughout the year. Some examples of typical activities:

Candidate Forums

Who's Who: Your Elected Officials

Voter Guides

Youth Voter Registration
Much More!

Brainstorm for ideas for this November's Election & Beyond!
Please join other League members on THURSDAY, September 17th to discuss ways YOU can get involved!
We will meet via Zoom and begin at 7:00 pm. 
This is a Members Only Event.
Zoom invitation will be emailed to the general membership 
Let's Strenghten Our Democracy Together!