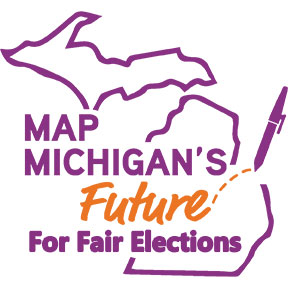 Applications for the Independent Citizens Redistricting Commission (ICRC) will be accepted only until June 1, 2020.
Learn how and why to apply for the ICRC!
Serving on the Commission
·     The Commission will begin meeting by Fall of 2020, no later than Oct. 15.
·     The Commission must solicit public input from communities across the state through open meetings and public hearings (at least 15 total).
·     Each of the 13 commissioners will receive compensation of about $40,000.
·     The deadline for the Commission to adopt a redistricting plan for Michigan's House and Senate and U.S. Congressional districts is Nov. 1, 2021.
·     These new districts will take effect for the 2022 elections.
In 2021, the Independent Citizens Redistricting Commission will draw the legislative districts for the State of Michigan based on the results of the 2020 Census. Applications to serve on the commission are only being accepted until June 1, 2020. With a few exceptions, anyone who is a registered voter in Michigan is eligible to serve on the commission. Over 4,000 people have applied but only 41% of the applicants so far have been female. Since women are a bit over 50% of the population, we need to increase the numbers of female applicants! If you are at all interested in serving on the commission, please go to this website:  https://redistrictingapplication.sos.state.mi.us/  and fill out the application online. The applications need to be notarized and the secretary of state's office has made an adjustment to the process so the applications can be signed and notarized electronically. The text below is copied from the Secretary of State's website:
"Part of the Independent Citizens Redistricting Commission application process requires that the application be signed in the presence of a notary.

Remote and electronic notarization: If you would like to have your application notarized electronically, several certified remote/e-notaries in Michigan have generously volunteered to provide this service for free. Here is what you need to do:

1. Contact a notary on this list  (found at https://www.michigan.gov/documents/sos/ICRC_Remote_E_Notaries_686983_7.pdf  and schedule an appointment.

2. Follow the instructions of the notary and remote/e-notary online platform to notarize your completed application.

3. Return your application to the Department of State. You can either email your notarized application to MDOS-NotarizedApplication@Michigan.gov or print and mail the completed and notarized application to Michigan Department of State, P.O. Box 30318, Lansing, MI, 48909."
If you are a fair minded female and have a flexible schedule, please considered applying to the commission!