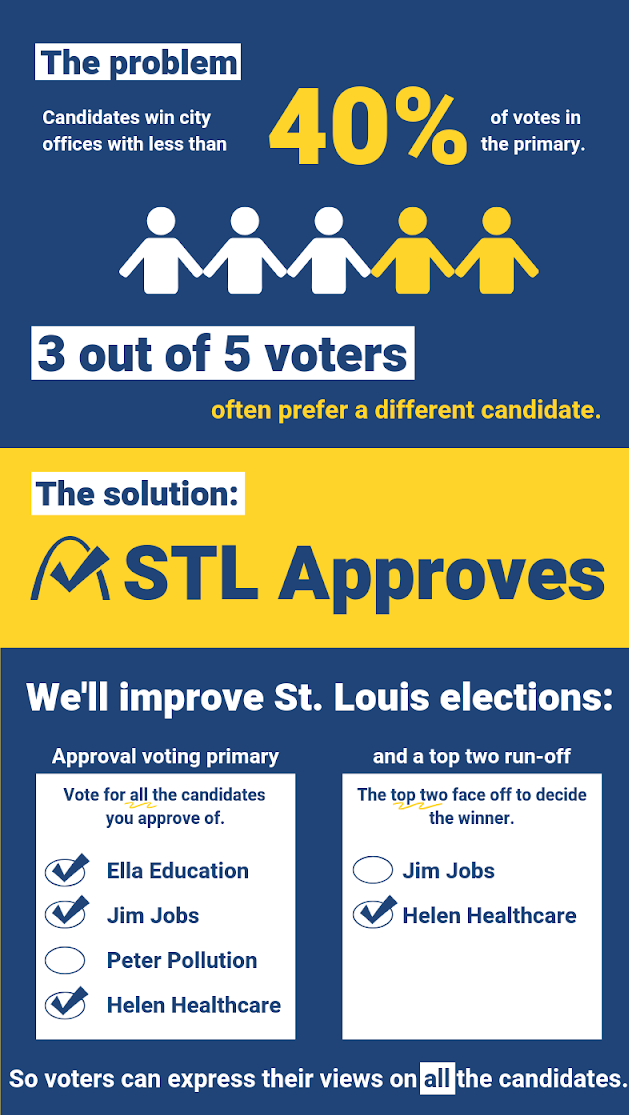 Voters overwhelmingly approved election reform in St. Louis City on Nov. 3. Prop D for Democracy won with 68 percent of the vote.
Future candidates for Mayor, Comptroller, President of the Board of Aldermen, and Aldermen will need broad support from voters to win office. Instead of a partisan primary in March that predicts the winner of municipal elections, voters will use approval voting in a non-partisan election. A top-two runoff will determine the winners of the April general election.
The League of Women Voters is proud to have been part of the effort to bring needed election reform to St. Louis through Prop D. City Unit leader Kathleen Farrell and Board Member Joan Hubbard said in a news release. "The candidate with the most votes should be elected to public office. It is as simple as that. The people deserve city officials who are responsive to all parts of our city and have a mandate to move St. Louis forward." 
Benjamin Singer, Executive Director of Show Me Integrity promised a guide to help candidates learn how to run under this new system. "We will invest significant information and resources alongside the League of Women Voters and The Center for Election Science to help educate the people of St. Louis on the new system and ensure record turnout in next Spring's election."
Prop D is expected to decrease the influence of big money by allowing voters to support grassroots candidates who have less money without worrying about "splitting the vote" or "spoiling" the election.
Issues referenced by this article: