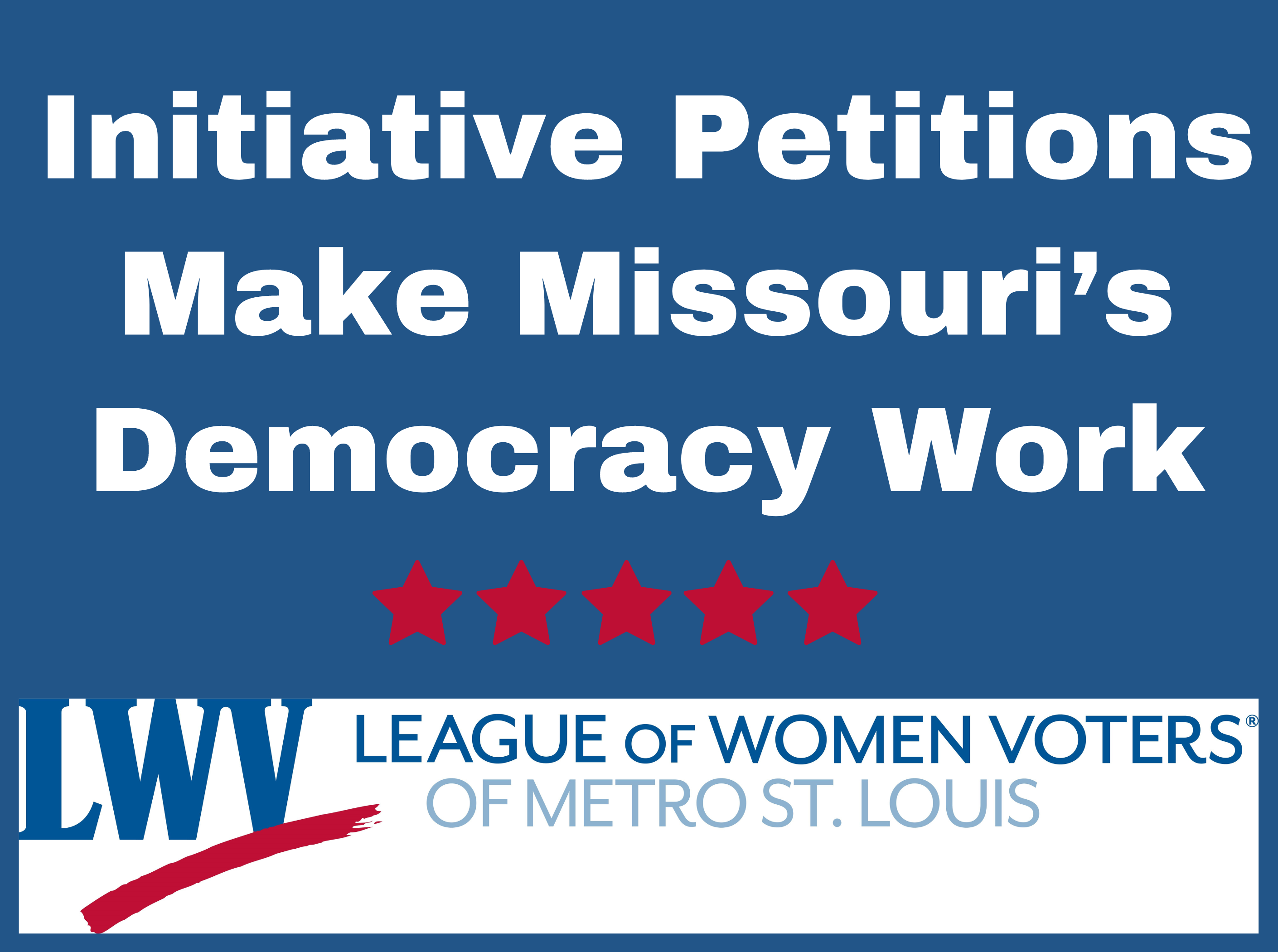 Legislation to undermine the citizen initiative petition failed to come to the Senate floor for a vote before the session ended on May 12. The Missouri House approved a conference committee substitute to HJR 43 on May 9. Final passage would have put the question on a November 2024 ballot (unless the Governor calls a special election).
The Initiative Petition (IP) has been used by Missourians for over 100 years to get a new law or constitutional amendment on the ballot for voter approval. Legislators targeted this right because it undermines their ability to totally control what laws and amendments are passed in Missouri. Constitutional amendments from Initiative Petitions will continue to require only a statewide majority vote for approval. 
"The League of Women Voters of Missouri believes that initiative petitions make Missouri's democracy work," says LWVMO President Marilyn McLeod. "Citizen initiative petitions let the people's voices be heard and their votes count. This process has been a key tool for democracy in Missouri for more than 100 years. It has been used for issues that have been both conservative and progressive, including the Hancock Amendment, term limits, Medicaid Expansion, a $15 minimum wage, medical marijuana and ethics reforms."
Because the League of Women Voters believes responsible government should be responsive to the will of the people, it was a leader in Will of the People, a large coalition which worked all session to protect this right of the people.
In personal testimony earlier this year, Angie Dunlap said, "It is contrary to the will of the people to make initiatives more difficult - to require more signatures or to require a higher threshold of votes to become law. Attempts to diminish the power of voters and give it to the legislators is working against democracy."
In more than a century, just 29 citizen-initiated Constitutional amendments have ever been approved compared to 133 of the 246 propositions from the General Assembly. Many more proposed citizen initiatives never got enough signatures to make it to the ballot.
"The people resort to the initiative petition, especially regarding changes to the Constitution, only because they feel their voice isn't being heard in Jefferson City."