Health Care/Medicaid Expansion
Health Care/Medicaid Expansion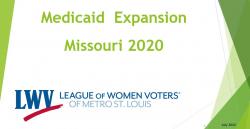 TALKING POINTS ON MEDICAID EXPANSION
Missouri voters approved Medicaid expansion (Amendment 2) on Aug. 4. The League supported this measure to expand Medicaid eligibility to individuals ages 19 to 64 making under $17,000 or couples earning under $23,000 per year. 
The Constitutional amendment is projected to bring insurance coverage to 230,000 additional Missourians. More than 90,000 children and 23,000 adults lost their coverage in the past year. Eight rural hospitals have closed.
Medicaid Expansion is a practical and highly effective means of addressing poor health outcomes and marked health inequities in Missouri with no added cost to the state. Currently, the federal government pays 63.4 percent of the annual $10 billion cost of Medicaid in Missouri. With expansion, the federal government would pay 90 percent and Missouri's share would go from 36.6 percent to 10 percent.
Expansion is estimated to create an annual cost savings of about $39 million. By not expanding Medicaid, Missouri has turned away $15.5 billion dollars since 2014.
Medicaid is a lifeline that keeps millions living above the poverty threshold. The goal of Medicaid expansion is to bring access to health care and greater economic security for low-income households. Having a source to help with health care expenses is critical to maintaining a healthy and productive life.
Making health-care affordable
Reducing financial strain
Protecting against catastrophic medical cost and medical debt
Medicaid Expansion will bring to Missouri the following:
Access to health insurance and health care to more than 230,000 additional people
Reduction in the number of low-income individuals and families with medical debt
Reduction of risk of hospital closure
Thousands of new jobs supporting health care
Nearly $2 billion dollars a year in economic activity
Families will be able to balance costs for health with other necessities
COSTS TO STATES WHO HAVE EXPANDED MEDICAID HAVE NOT INCREASED. OTHER STATES ARE VERY  SATISFIED WITH THEIR DECISION TO EXPAND MEDICAID. 
For more inforamtion, go to missourihealthcareforall.org.