Advocating for Voters
An eight-person delegation went to the Capitol on March 11 to share our views on fair maps, voter ID, initiative petition rules and several pro-voter bills. Thanks to Senators Sifton, Walsh, Koenig and Schupp and Reps. Lavender, Mackey, Meredith, Morgan and Green. We also saw the suffrage plaque and the bust of Virginia Minor!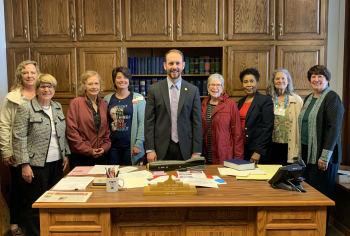 Women's March
LWV of Metro St. Louis sponsored the 2020 St. Louis Women's March. Members shared information, gathered petition signatures and showed our support for the Equal Rights Amendment. 
The Celebration of a Century

At the Nov. 13 banquet, the St. Louis League celebrated its centennial and honored its leaders. Pictured above are  special guests Elena Oliverira and Gay Gellhorn, granddaughter of the first Missouri President, Edna Gellhorn, with current co-presidents Nancy Miller and Louise Wilkerson. For more images from the gala, see Photos in the menu on the left. See the presentation on the honorees by clicking this link. For the banquet program, click here
Members approve gun policy
At the Sept. 19 Fall Kickoff, members adopted a gun policy to the 2019-20 program to make it a priority for advocacy. The policy says: Protect the health and safety of citizens through limiting the accessibility and regulating the ownership of handguns and semiautomatic weapons. Support regulation of firearms for consumer safety.
Speaker Denise Lieberman of the Advancement Project said her group is dedicated to equal access to democracy for all. She said, "2020 is shaping up to be one of the most important elections of our lifetime."
Calling for Honest Elections
More than 200 people attended a Sept. 16 town hall on Ethics in St. Louis County Government. Nancy Miller moderated the cross-partisan event. Sponsors included the League, St. Louis County NAACP, NCJW, Show Me Integrity and American Promise.
 Agnes Garino poses with the suffragist cut-out at Kirkwood's Greentree Festival and Girl Scouts Elena Oliveira and Madison Gruenenfelder stop by the League office. For information on the League's merchandise, go to https://lwvmissouri.org/shop-2/.
State President Evelyn Maddox with Nancy Miller, Jean Dugan, Nancy Price and lawyers in the League's suit against the Secretary of State's implementation of the photo ID law. On Aug. 20, Maddox testified in Cole County Court that voters are confused about the ID requirements and that they can present a barrier to voting.
 Centennial Proclamation
Jean Dugan, Louise Wilkerson, Nancy Price and Catherine Stenger joined other League members in Jefferson City on July 8 as Secretary of State Jay Ashcroft presented a proclamation recognizing the Centennial of the League and Missouri's ratification of the 19th Amendment. They stand by a plaque the League installed in the Capitol in 1931 "as a tribute to the those women in Missouri whose courageous work opened the opportunities of complete citizenship to all women in the state."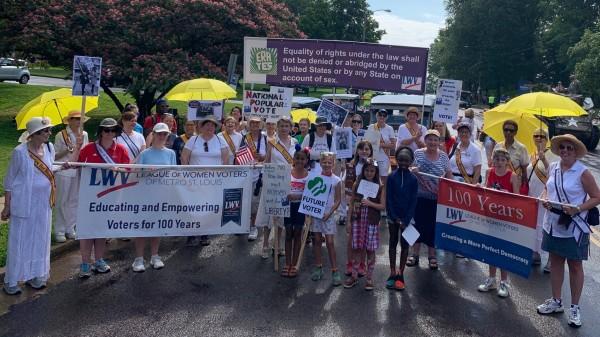 Marching Just like the Suffragists 100 Yrs Ago
The League remembers the suffragists that 100 years ago worked so hard to get the vote for women. On the 4th of July, we marched with the Girl Scouts in the Webster Groves parade to show off our 100-year history, our service today and the bright future we envision. 
 May 2019 - State Convention Focuses on Making Voting Easier
The 64th state convention featured several speakers on election reform. On Friday, Alicia Gurrieri from LWVUS presented a workshop to help League members empower voters and defend democracy.
Keynote speaker Amber McReynolds explained how she worked to get comprehensive election reform in Colorado, including automatic voter registration and address changes, mail-in ballots and central vote centers. "Let's make the voting experience something everyone can celebrate," she told LWVMO convention delegates. The former director of elections for Denver, she is now the Executive Director for the National Vote at Home Institute. She was introduced by Eric Fey, Director of the St. Louis County Board of Elections.

St. Louis City Treasurer Tishaura Jones updated the convention on proposed election reforms "to ensure an effective government of, by and for the people." She called Amendment 1 "a tremendous victory to clean up Missouri politics." After commending the League for its work for American democracy, she challenged delegates to block legislation now in the Missouri Senate to override voter wishes and make it easier to gerrymander. She also shared some exciting opportunities to make positive lasting changes for voters, including approval or ranked choice voting.
Members Enjoy Centennial Tea
The League kicked off its 100th birthday celebration with a March 24 tea at the St. Louis Woman's Club. Other upcoming Centennial events include a Suffragist tour of Bellefontaine Cemetery on Thursday, May 2, summer parades and a banquet Nov. 13 at the Sheldon.
Pictured above are LWV of Metro St. Louis co-presidents Nancy J. Miller and Louise Wilkerson.
Poster Encourages Students to Register to Vote
Laura Champion from Rockwood's Lafayette High School won the League's statewide poster contest to promote youth voter registration. The League of Women Voters of Missouri is sending a copy of Champion's poster to more than 700 high schools in Missouri

"The colors make it more exciting and enthusiastic, which is my stance on getting people to vote," Champion said upon getting her $500 prize. "I'm passionate about having people's voices heard."