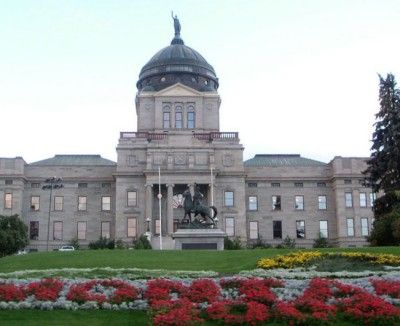 Time Range For Action Alert:
January 15, 2018

to

April 6, 2018
The Montana League finalized its Program for 2018-2019 at the Retreat in Billings on April 21 and 22.  The LWVMT focuses on issues at the state level, using our own state positions and those of LWVUS.  
The 2019 Montana Legislative Session will be coming up during this coming year.  If you have areas of legislation on which the League has a position that you would like to follow, please let us know, so we can plan for the legislative session.  You can send your ideas to:       montanalwv [at] gmail.com
  The approved Program is below:  
Montana League of Women Voters
Program and Action Plan 2018-2019
Program Focus:  Making Democracy Work
Support for National action:
Emphasis is on individual members contacting their Congressmen and the President to follow through on Actions taken by National as unprecedented challenges to League positions arise at the national level.   State officers forward Chris Carson's (National League President) updates and calls to action from LWVUS to local members. 
 Voting Rights and Voter Protection in 2019 Legislative Session
Support positive reforms such as online voter registration for all, portable voter registration within each state, and reforms to provisional voting, and to oppose any bills that curtail voting rights.  Defend existing voter rights if needed. 
Money in Politics in 2018 elections and 2019 Legislative Session
 Work in coalition with appropriate groups in Montana to raise the issue of money in politics with candidates for state legislative and federal offices in both primary and general elections.  Lobby in legislature according to League positions on bills affecting the Commissioner of Political Practices and other money in politics bills.
Voter Registration
Coordinate with local Leagues to apply for LWCUS grant to step up local League voter registration at naturalization ceremonies; encourage local Leagues to expand voter education and registration efforts in the high schools.  Explore ways to work with Native American voter registration and education organizations. 
Voter Education 
Inform people about existing on-line voting resources as part of our election voter registration and voter outreach, such as VoteSmart and FollowtheMoney, as well as the data site on campaign finance from the Montana Commissioner of Political Practices. 
Research and prepare report for Montana voters on Montana's election process.  Compare Montana process with LWVUS criteria; include recommendations to the legislature as appropriate.   Work with Secretary of State's office and Association of Clerks and Recorders to help citizens understand how the voting process works, and their responsibilities as voters.
Program Focus:  2019 Montana Legislative Session
Monitor proposed initiatives and referenda prior to the session and monitor bills during the session for potential state League lobbying and testimony, in keeping with League positions on other issues, e.g., the judicial system, public education, libraries, air quality, energy, land use, water.  Coordinate testimony and action alerts to the membership as needed. 
Program Focus:  Climate Change
Continue planning, raising funds, enlisting co-sponsors, etc. to host June, 2019 Yellowstone Symposium on climate forecasts and stream flow.  Share information across local Leagues on actions to take. 
Program Focus:  Civil Liberties 
Provide well-researched public education, and support potential League action statewide and/or locally, regarding existing unprecedented challenges to National League Positions that infringe on U.S. citizens' rights and civil liberties, with a focus on immigration.
Program Focus: LWV 100th Anniversary 2020
Continue planning, raising funds, enlisting co-sponsors, etc. to host 2020 100th anniversary of the LWV celebration. 
Action Plan:
Encourage members to track and respond to actions taken by National
Apply for LWVUS Naturalization grant to expand local League outreach to registering voters at naturalization ceremonies.
Work with other organizations to help increase impact and participation, especially in raising Money in Politics as issue in state and federal office candidate campaigns
Organize legislative team to monitor proposed bills, prepare League Action Forms and Action Alerts, and coordinate LWVMT lobbying in state legislature.   Set priorities for areas to cover. 
Recruit local League members to work on Montana election process report, including observer corps for voting and counting ballots for 2018 primary.
Release election process report in mid-November, 2018, with recommendations as appropriate for the 2019 legislature. 
Share information across local Leagues on actions individuals can take concerning Climate Change.
Recruit local League members to work on Yellowstone Symposium. 
Continue work of 100th anniversary planning Committee for 2020