How to use the Content Moderation and Workflow tools
How to use the Content Moderation and Workflow tools
How to use the Content Moderation and Workflow tools
Content moderation refers to the act of saving your changes, whether that is as a draft or published. This documentation will explain this process.
Saving new content as Draft or Published
Add new content item by selecting your Content Type from the Administrator League Menu (Add Page, Add Action Alert, etc.).
Enter in your content (i.e. text, images, etc.).
Scroll to the bottom, and from the Moderation State drop-down menu, select Draft or Publish. Be default, this is set to draft.
Click 

Save

 to finish. 
When new content is saved as a draft, the background will be red to remind you that this content is not visible to the public. Once a published revision of content has been saved, the background will be clear (white).
Starting a Draft version of Published content
Select the content that has already been published.
Click New Draft to make your edits.

You can also reach any content from Manage Content. From here, locate the content item then click the edit link to reach its editing form.

Optional: Provide a message in the Revision log message

 field.
Scroll to the bottom and, from the drop-down menu, select 

Draft

.
Click 

Save

 to finish.
Once this draft is saved, the background will remain clear (white). Only new drafts (ones without a published revision) display with a red background.
Explanation: The Workflow functionality allows you to leave your Published content in place while at the same time creating one or more Draft versions of the page. Adding the Revision log message is a useful step to help you tell the difference between one saved Draft versus another when it comes time to select one to Publish, Delete, or continue your editing. 
Updating Published content from a Draft
Method 1: Use the Quick Publish option from View mode
You can quickly publish a draft if you are in view draft mode and your revision status bar looks like this:

NOTE: Content saved in a Draft state with this method does not allow you to apply changes before publishing. By clicking the Apply button, it will immediately publish the latest version of the most recent draft.
Method 2: Edit Content Regularly / Save option at bottom of content editing form
After editing your content, you can scroll to the bottom of the editing form. Select 'Published' from the moderation state drop-down menu and click Save to publish your draft.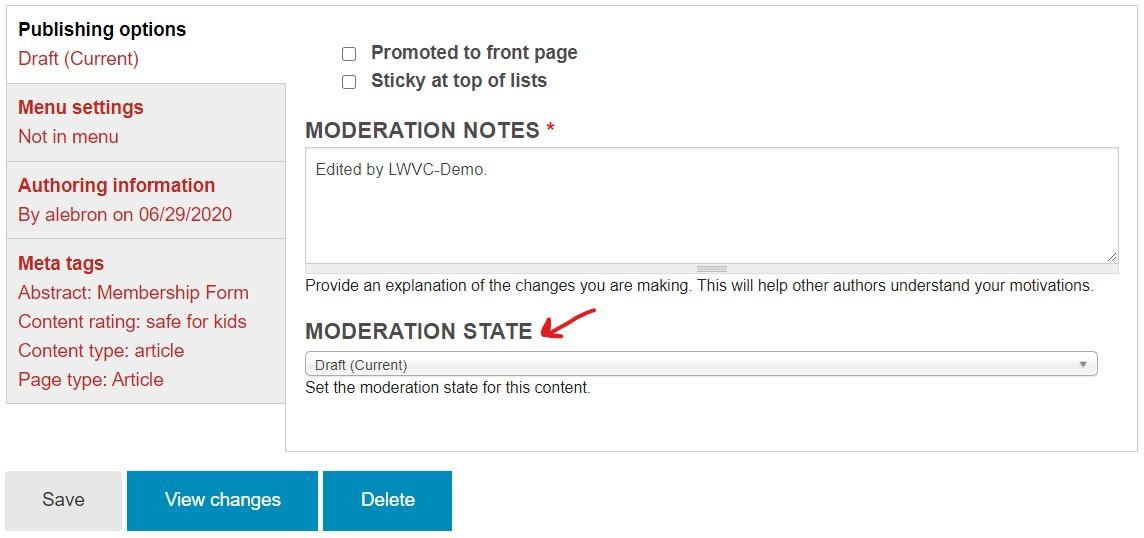 Method 3: Pick a specific Draft from Revision to Publish
Most content will have multiple revisions saved over time. These revisions are logged each time the editing form is saved. Using the Moderate tab to access this list of revisions, you can view, revert back to, or delete any revision for a content item.
Your list of revisions found here are listed in chronological order, with the most recent at the top. If the first listing is red, your current revision is a Draft. If the first is green, that is a published revision only. If you have a red listing at the top of the list, followed by a green listing, then you currently have a published version and also a more recent draft. The revisions listed here are referred to as listings, save points, and revisions.
View

: This link will take you to view that specific version of the page; the visible area will be restricted to the Body area (Body and Body with embed code sections).

Moderate tab

: This is a View that displays all the save point history of this piece of content. It provides the save date, author name, the Revision log message; depending on the color of the listing, each has additional links to "View", 

"Edit draft",

"Revert", or "Delete". Providing a log message makes it far easier to differentiate one change from another in this list.

Apply button (for draft/red listing only)

: The site will create a save point for every Draft state you save. Using the Set as current revision button will make that save point the Published version.

Set as 

current

 revision (second Draft or older)

: If we use an earlier Save as current revision in the list, it moves this Draft to the top of the list and makes it the first candidate for replacing the live content if Published.

Current revision

: This represents the page's last saved point when it was Published.
Deleting Drafts
DO NOT DELETE YOUR DRAFTS FROM THE MANAGE CONTENT SCREEN OR FROM THE BOTTOM OF YOUR PAGE WHILE IN EDIT MODE. This will completely delete your page. Sadness will ensue because it can't quickly be restored. Reach out to the
mylo

[at]

lwvc.org

(MyLO Team)
if this happens.
Navigate to the page that contains a Draft mode you no longer need.
Click on the Moderate tab.
Locate any listings in gray and click the 

Delete

 option for that Draft state save point.
The screen will update and ask you to confirm that you want to 

Delete

 the Draft or Cancel. Click 

Delete

 to proceed.
The screen will update and return you to the Moderate tab listing showing that the selected Draft save point is now gone.
MyLO FAQ Category:
Best practices, Content editing, General