The Leagues of NH, VT, ME, and RI have worked together for a number of years on regional issues. The Leagues in Massachusetts and Connecticut sometimes join the annual conference.
See the description of this year's conference below.
2018 (Quad States) New England League Leadership Conference |  2017 (Quad States) New England League Leadership Conference | 2016 (Quad States) League Leadership Conference | Conference 2015 report | Conference 2014 report | Energy/Climate Change report
2018 (Quad States) New England League Leadership Conference
Same place: Hampton Inn in Wells, Maine.
Save the Date: Weekend of April 7-8, 2018.
State presidents and boards are starting to plan the event: always interesting, informative, and wonderful company, so do plan to attend.
2017 (Quad States) New England League Leadership Conference
A fascinating group of workshop presenters included a young but experienced political figure who founded a civics curriculum being used in several states, a husband and wife team who are the founders of the Maine Center for Public Interest Reporting, and a professor of government at Colby College and Director of the Goldfarb Center for Public Affairs and Civic Engagement.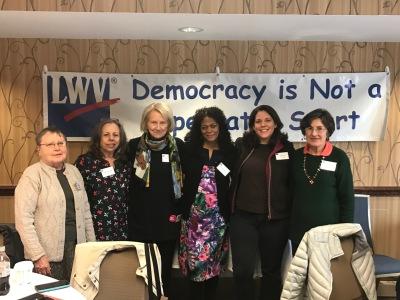 Our keynote speaker was Toni Zimmer, LWV board of directors and our liaison to national League (shown center in this photo of the 5 New England state presidents attending: VT, MA, RI, Toni, ME, NH.)
This is the eleventh year Leagues from New England have organized this conference to educate ourselves and share our ideas for Making Democracy Work, the theme for 2017.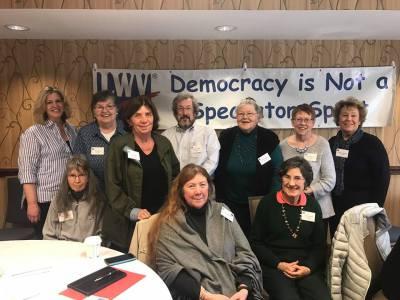 So busy we couldn't get all thirteen LWVNH members to stand still together, but we caught ten of us. Missing are JoAnne E, Sally E, and Sara M.  
Click here for conference summaryThirteen NH members represented our League, and our thanks to the LWVNH Education Fund for helping to make this possible.
2016 (Quad States) League Leadership Conference
April 9-10, 2016,
brought together 5 of the New England Leagues for fascinating workshops and discussion.
Exciting keynote speaker was author and political strategist Celinda Lake. She is the co-author of the book What Women Really Want: How American Women Are Quietly Erasing Political, Racial, Class, and Religious Lines to Change the Way We Live The theme for this year's conference workshops was communications: getting the League's message to the public and to elected officials, as well as improving internal communications at all levels. Our recent Money in Politics study was referred to in examples of possible communications strategies.
Location was the Hampton Inn and Suites, Wells, Maine.
2015 Quad States Conference
The Quad States Conference (NH, VT, ME, RI and possibly CT) was held in Wells, Maine, the weekend of May 16-17. League members from NH, VT, ME, and RI and Connecticut attended.
Program: Nellie Gorbea, Rhode Island's Secretary of State, was the keynote speaker at the 9th annual Quad States Leadership Conference. Election Law was the theme of this year's conference, with related issues the focus of workshops to enhance our League leadership skills (focus issues are in parentheses below):
Membership Recruitment: using an issue to recruit members (Redistricting) + Nancy Marashio (NH) was a workshop presenter.

Working With Others, including LWVUS (Money in Politics) + Ann Luther, (ME).

Conducting a Study (Open Primaries) + Kate Rader and Sonja Schuyler (VT).

A panel of women in public life who have used League experience to launch or inform their careers concluded the conference on Sunday.
2014 Quad States Conference
LWVUS president Elisabeth MacNamara sttended this conference! She shared many thoughts with attendees.
States participating in 2014 were NH, VT, Maine, RI, and new this year, Massachusetts and Connecticut.
With energy production and distribution currently "hot topics," this year's subject was Energy and Energy Efficiency. The New England Governors in December signed a compact agreeing to work together to solve the region's energy issues. The Governors are committed to working toward a regional goal of lowering electricity and heating costs and expanding their [energy] portfolios. This announcement contributed to our choosing this topic for our 2014 conference.
Our keynote speakers included Jack Cashman, former head of Maine's Public Utilities Commission, who explained how ISO-NE* works in relation to the states' various Public Utilities Commissions. Lea Aeschliman, a past League member and former chair of the NH Public Utilities Commission, helped us understand more about the current status of RGGI (Regional Greenhouse Gas Initiative), a regional initiative by states and provinces in the Northeastern United States and Eastern Canada regions to reduce greenhouse gas emissions.
Also leading one of our workshops was a Maine League member who serves on LWVUS Climate Change Task Force. Pam Person helped us understand the LWVUS work on climate and energy and how state and local Leagues can take action.
We thank the LWVNH Education Fund for a grant to support NH attendance at the conference this year.
A synopsis of what we learned is posted below.
Energy and Climate Change Report
This is a summary of the three presentations on energy and climate change given at the May 2014 Quad States conference.
Download the pdf