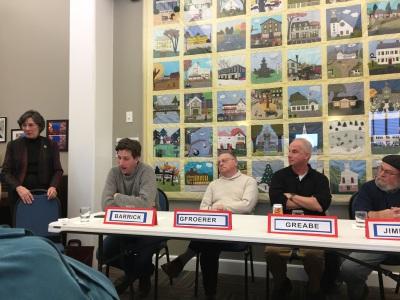 LWV/Hopkinton Town Library Program--
On Sunday, March 26, a standing room only crowd filled the Community Room at Hopkinton Town Library eager to learn what a distinguished panel had to share with them about "Fake News, Tweets and Facts in our Democracy." NH League of Women Voters President Liz Tentarelli served as moderator as Dan Barrick, news director of NHPR; Ralph Jimenez, Concord Monitor editorial writer; John Greabe, UNH Law Professor, and documentary maker John Gfroerer discussed the proliferation of fake news across the media spectrum and the challenge this poses to voters seeking solid, dependable information upon which to make decisions as to what policies or political candidates they should support.
Professor John Greabe emphasized the difficulty of legally challenging Fake News given the central importance in our society of the First Amendment which states that "Congress shall make no law respecting an establishment of religion, or prohibiting the free exercise thereof, or abridging the freedom of speech, or of the press; or the right of the people to assemble, and to petition the Government for a redress of grievances." He cautioned his audience not to expect the courts to solve the challenges posed by fake news.
NH Public Radio News Director Dan Barrick spoke of the very human element of "bias" in all of us, and, reflecting fellow panelist Ralph Jimenez's observations, noted that a journalist's training is focused on the recognition of such natural bias and the intentional determination to examine issues from a variety of perspectives to ensure balanced and accurate reporting.
Ralph Jimenez challenged the audience to "not think of an elephant." In doing so Jimenez demonstrated the views of cognitive science and linguistics professor George Lakoff, whose research helps to explain how fake news works. Simply by hearing presidential candidate Hillary Clinton called "crooked Hillary" over and over, voters automatically made a negative association.
Filmmaker John Gfroerer, whose presentation "Television: The Art and Ethics of Manipulation" is included in the NH Humanities Humanities to Go catalogue, shared a series of examples of the acceptance of far-fetched, unsubstantiated stories by uncritical news consumers.
The panelists spoke of a time not so long ago when there was justifiable public confidence in the solid reporting of journalists like Walter Cronkite. The internet and the growth of "infotainment" sources make the creation and proliferation of fake news a growth industry. Still, today there are many excellent and dependable journalists working diligently to provide the solid information citizens in a democracy rely. However, Ralph Jimenez cautioned his audience, it is now imperative that citizens practice "discernment" and rely on multiple reputable news sources and utilize fact-checking services whenever there is reason to doubt a news report.
As Doris Haddock, NH's own "Granny D." said, "Democracy is not something you have, it is something you do." In the era of fake news, that means we need to do what is necessary to get the information we must have to exercise our rights as citizens.
(League member Janet Ward was the driving force behind this program and wrote the above summary for us. More than 110 people attended. For more information on the topic of Fake News, people might want to seek out area libraries that offer presentations on how to recognize internet fake news sites, given by library personnel or by guest speaker Randall Mikkelson.) 
Issues referenced by this article: