Starting July 16, census takers will begin interviewing households that have yet to respond to the 2020 Census in regions managed by the area census offices. In subsequent weeks, the Census Bureau will announce additional census offices as it prepares to begin enumeration activities nationwide. The majority of census offices across the country will begin follow-up work on August 11.
The Census Bureau is working to complete data collection as quickly and safely as possible, while ensuring a complete and accurate count as it strives to comply with the law and statutory deadlines. All offices are schedule to complete their work by September 30, 2020. Make sure you are counted!
Did you miss the meeting on October 2, where the 2020 Census was discussed? Here's what we learned from our two guest speakers:

Census data has lots of impact on us. For example, it determines how many representatives we have in Congress, and how much federal money is allocated to New Jersey and our district. So it's important that everyone is counted accurately.
In 2016, New Jersey received almost $23 billion through 55 federal spending programs guided by data derived from the 2010 Census. In District 12, we have a population of 749,492. 21% of that population is in "hard to count" areas. The Census bureau is committed to doing everything possible to count everyone. Every household will have the opportunity to respond online, by mail, or by phone.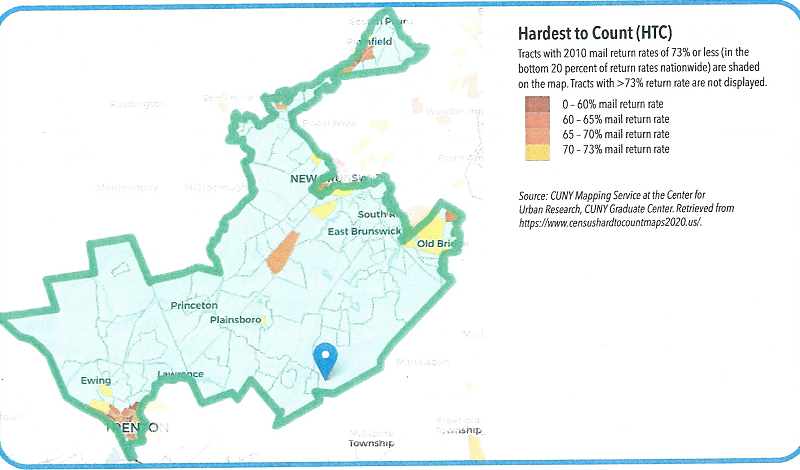 Here is the process, beginning in March, 2020:
March 12-20: You receive an invitation in the mail to respond to the 2020 Census online. (Some households will also receive paper questionaires.)
March 16-24: You receive a reminder letter.
If you have not responded yet:
March 26-April 3: You receive a reminder postcard.
If you have not responded yet:
April 8-16: You receive a reminder letter and a paper questionaire.
If you have not responded yet:
April 20-27: You receive a final reminder postcard before a Census worker follows up in person.
NOTE: Federal Law mandates that census data with personal information must be kept confidential.
For more information, download these informative handouts prepared by the Census Bureau:

2020 Census - the basics - what you need to know

What we ask and Why we ask it

2020 Census Confidentiality

Importance of Counting Young Children
Or go the the USCensus website: 2020Census.gov 
Or got to the Census 2020 NJ Coalition website: Census2020NJ.org