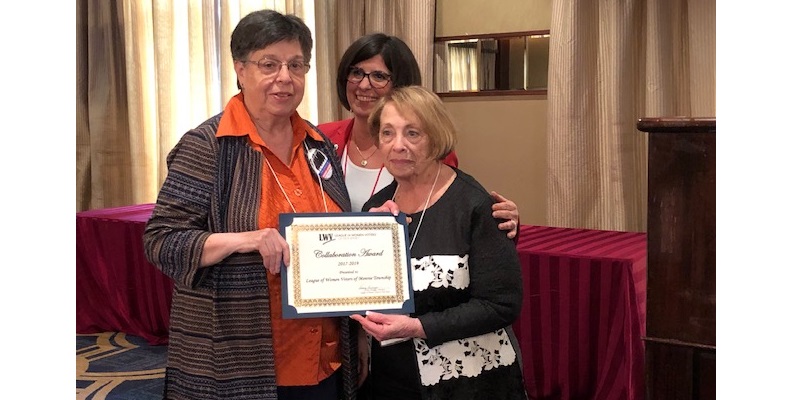 Date of Release or Mention:
Tuesday, May 7, 2019
Monroe Township League of Women Voters proudly announces that it has received the League of Women Voters of New Jersey (LWVNJ) 2019 Collaboration Award. The award was presented to the group on May 4 at the 63rd Biennial State Convention of LWVNJ in Somerset, NJ. The Collaboration Award is given to a local League that has demonstrated noteworthy success in working with other organizations to achieve a higher level of synergy in advocating for or in educating the public about issues important to the community. Monrow Township received the award based on its delivery of a recent program on Human Trafficking.
According to Ruth Mullen, Chair of the League's Human Trafficking Committee, "The League has worked diligently during the past 6 years to raise public awareness about the threat of human trafficking in NJ, but it was our most recent project, a program in January, geared towards informing parents, educators and others with frequent interaction with children about trafficking, that earned the Collaboration Award for us."
The League's partners for the January event included elected officials at the local and State level, law enforcement representatives, health experts and leadership from the following community agencies.
NJ Coalition Against Human Trafficking
Prevent Child Abuse NJ 
Women Aware
India-US Forum (IFM) of Monroe Twp. 
Monroe Twp. Human Relations Commission
Lead My Way
"Working together", Mullen added, "we were able to leverage our individual strengths and resources to enhance the security of the youth of our community and to expand our program into other communities."