Monroe Township
The League of Women Voters is proud to be a nonpartisan organization, neither supporting nor opposing candidates or political parties at any level of government, but always working on vital issues of concern to members and the public. We encourage informed and active participation in government. We influence public policy through education and advocacy.
The Monroe Township league was begun nearly 30 years ago. Our challenges then and now are to strengthen democracy by making sure every citizen is registered to vote, has access to vote, and is not denied the opportunity to vote.
Saluting Women's History Month --
WE'VE COME A LONG WAY BABY!
WE SALUTE THE PIONEERS WHO HAVE PAVED THE WAY
The Monroe Township League of Women Voters celebrated its 30th anniversary in 2018. Today, we salute three members who have continued the fight for good government for more than 80 years in total.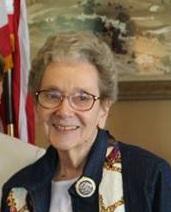 Ruth Banks has been a League member for more than 50 years. Ruth is a past President of the Monroe Township League of Women Voters and was one of the original members. Prior to moving to NJ, she was also a League member in Houston, Texas. For many years, Ruth has been the primary writer of League press releases and articles. She has been a mentor to all current board members and continues to inspire us. 
Judy Perkus is a 25-year member of LWV-MT. Judy is currently the League's Treasurer. Past roles have included Education Committee member, Membership Chair, Vice President and Co-President. One of Judy's favorite aspects of League membership has been participation in LWVUS' National Conventions. She is invigorated by the discussions and debates by the delegates on various issues under consideration by the League.
Sandy Hirschhorn  After living in different parts of the US and travelling in Europe and Africa, Sandy and her husband settled in Monroe. The timing for LWVMT was excellent. At her very first meeting, Sandy stepped up to replace the departing editor of the Leagues bimonthly newsletter, LIA. She is proud to have moved the publication to on line distribution and from black and white to color. Even though she has always taken great interest in politics, Sandy never thought she would become a League of Women Voters member, but she is now working on nearly a decade of LWV-MT membership and activism.
We commend Ruth, Judy and Sandy. They have, over the years, worked on many issues focusing on improving life in Monroe and on increasing the League's connections with the Township.   
 

Monroe Township LWV General Meetings

WHEN - 4th MONDAY of the MONTH
WHERE - MUNICIPAL BLDG, 1 Municipal Plaza
TIME - 1 P.M. (evening meetings coming soon)


ALL ARE WELCOME TO OUR GENERAL MEETINGS