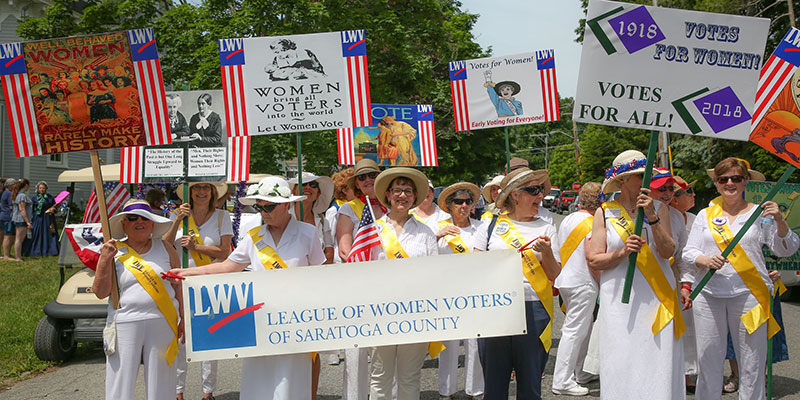 **NOTE: If you have done something different please send to LWVNYS.
READING OF THE DECLARATION OF OF SENTIMENTS
All Leagues in NYS are requested to do this on July 4, 2019
What:
All you have to do is recruit a member read the Declaration of Sentiments on July 4, 2019 at an appropriate location in your area. We ask your reader to wear white and wear the LWV sash. 

You can also read it at other events or other dates especially if July 4th is inconvenient.
Why:
To call attention to the League of women Voters and our continuing fight to Make Democracy Work. 
More than 100 years ago on July 4, 1915 suffragists read the Declaration of Sentiments in front every County Courthouse in this state, in an event organized by Carrie Chapman Catt to call attention to the campaign for women's suffrage in NYS.
LWVNYS will send out press advisories and press releases, and also provide a sample press release and Letter to the Editor for you to send.
You can add any embellishments you desire to enhance the reading such as adding this to a local community event, a picnic, a parade, music, whatever, BUT we implore you to at least carry through with the reading.
Declaration of Sentiments (with introduction).
TRIVIA EVENT
Join the League of Women Voters of Oneonta and the Cooperstown Area for TRIVIA BINGO on March 28 at 7pm at the Cooperstown Fire Hall (24 Chestnut Street, Cooperstown).
In 1919, the U.S. House of Representatives and the Senate both passed the 19th Amendment and then sent it on to the states for ratification. That same year New Yorkers found the state chapter of the League of Women Voters.
We will remember these milestones as we metaphorically "March in History" to test our knowledge and enjoy an evening together. All are welcome and prizes and snacks will be available.
Contact:

Cynthia.Falk

[at]

oneonta.edu

(Cynthia Falk)

 for Trivia Questions
BREAKFAST, LUNCH OR DINNER WITH A SUFFRAGIST
An Afternoon with Eleanor
Join us May 4 to celebrate LWVNYS's centennial!
One hundred years is a milestone to celebrate – for a person, a thing, an institution, an idea. This year is the Centennial of the League of Women Voters of New York State.
We invite you to join us at the Garret Club on Saturday, May 4, from 4 to 6 p.m. for a 100th anniversary celebration cocktail party!
See attached PDF: LWVBN Centennial Celebration Cover Letter
Breakfast with Carrie Chapman Catt  
Re-enactors you can contact:
Susan B. Anthony: 

mckenney_linda

[at]

yahoo.com

(Linda McKenney)


Carrie ChapmanCatt: 

mckenney_linda

[at]

yahoo.com

(Linda McKenney)


Eleanor Roosevelt & other women:  Denise Reichard   
REENACTMENT OF AN HISTORICAL EVENT IN YOUR AREA
August 24, 2019 -  LWV Hamptons sponsored re-creation of August 1913 suffrage rally in East Hampton, starting in front of suffrage leader May Groot Manson's house. Marchers, approximately 200 in all, wore white or period dress and "Votes for Women" sashes. Rally ended with program at East Hampton Library that included speaker Coline Jenkins, descendant of Harriot Stanton Blatch, who spoke at 1913 rally, and NYS Lt. Governor Kathy Hochul, chair of NYS Suffrage Centennial Commission. Many community groups participated.
SPECIALIZED LECTURES :
"THE SUFFRAGIST MOVEMENT: WOMEN WORK FOR THE RIGHT TO VOTE"
by Arlene Hinkemeyer, Ó Arlene Hinkemeyer
Talk given on Friday, March 15, 2013, 7 p.m., to East Hampton Historical Society
Third of four-part Winter Lecture Series titled "CHANGING TIMES: Epics & Events That Shaped East Hampton"
Colleges and Universities are often a good source of speakers who have done considerable research on your topic.
HAVE YOUR LOCAL GOVERNMENT UNIT ISSUE A PROCLAMATION
Attached are proclamations issued in Tompkins and Saratoga Counties
Be sure to have photos for your local paper and Facebook, etc.
TED Style Talks
LWV Cooperstown adapted the idea and style of TED talks and had a program focused on Suffrage.
LWV Saratoga borrowed the idea from Cooperstown and had LED (League Embraces Democracy) talks. 
Contacts: 

Cynthia.Falk

[at]

oneonta.edu

(Cynthia Falk)

(Cooperstown) and

PattieGarrett

[at]

aol.com

(Pattie Garrett)

(Saratoga)