LWVNYS 100th Anniversary Convention
June 7-9, 2019
Hilton Hotel, Albany, NY
Award Nomination Forms
Registration details coming!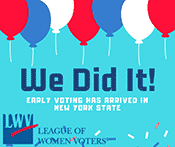 LWVNYS Statement on Voting Reform Package
We did it! We have passed a package of comprehensive voting reforms in New York State! After more than three decades of fighting for election modernization, the state legislature has finally passed a package of voting reforms that includes early voting, same day voter registration, no-excuse absentee voting, primary consolidation, pre-registration for 16 and 17 year olds, state-wide voter registration transfer, and closure of the LLC loophole.  The League will continue to advocate for funding for many of these reforms. Stay tuned for updates on the statues as the session continues.
Governor Cuomo 2019 Justice Agenda
In a speech on 12/17/2018, Governor Cuomo unveiled a 20 point agenda for the first 100 days of the upcoming legislative session. Read the 20 points here. 

2019 NYS Legislative Calendar
The NYS Legislature released its session calendar on 12/12/2018. 

Teaching High School Students How to Engage in Politics
The state League and the NYS Social Studies Supervisory Association (NYS4A) are pleased to announce the publication of seven lesson plans on state and local government for teachers of the New York Grade 12 Participation in Government course.