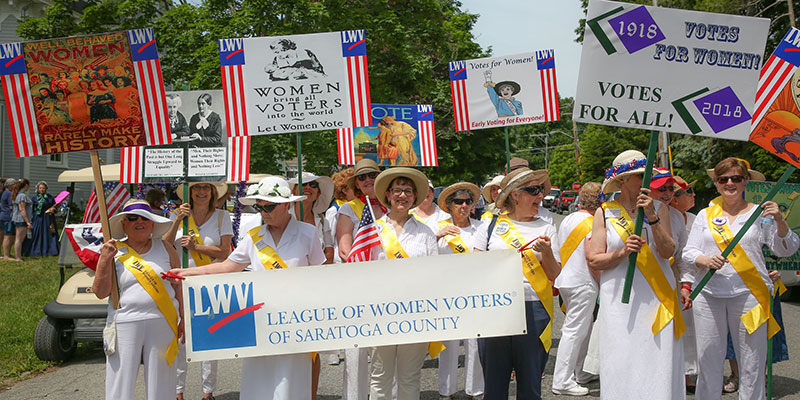 VALIANT WOMEN OF THE VOTE (5/20/2020)
CO-CHAIRS OF THE 100th ANNIVERSARY EVENTS COMMITTEE
LWV of Syracuse
Contact info: 

jaj62

[at]

twcny.rr.com

(

Joan Johnson

)
LWV of Saratoga County
Contact info:

 

bkoeppicust

[at]

gmail.com

(Barbara Thomas)
100th ANNIVERSARY EVENTS YOU CAN ADAPT OR COPY 

CENTENNIAL CELEBRATION IDEAS FROM  NYS PARKS, RECREATION AND HISTORIC PRESERVATION
Votes for Women is an interactive PDF informative suffrage panels traveling throughout state parks regions statewide. The interactive PDF includes summary highlights of female New York leaders with links to lesser known information for those with more familiar names. READ MORE...
"March On!" (marchonny.com) – This children's book focuses on sparking discussion of women's suffrage with youths. READ MORE... 
100 YEARS OF WOMEN VOTING: A CREATIVE CHALLENGE
Joint project with LWV of Huntington and Town of Huntington
Design something, Paint something, Sculpt something, Write something, Engineer something….Show your vision to salute the arduous struggle for the right to vote for all women and the diversity of the struggle's participants. All areas of study are included, art, music, theater, fashion, language arts, history, math and science, etc.
Contacts: 

MLSperri

[at]

optonline.net

 

or 

Barbara.raisch

[at]

gmail.com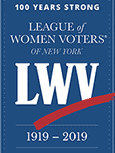 We have already celebrated NYS women securing the right to vote on November 6, 1917.  Now is the time to plan to celebrate these dates:
LWVNYS was founded on November 19, 1919
LWVUS was founded on February 14, 1920
The 19th Amendment to the US Constitution (giving American women the right to vote) was officially certified on August 26, 1920
GUIDELINES FOR PLANNING YOUR LOCAL EVENTS
The information below is designed to assist local Leagues as they plan their activities and events for the anniversary and afterwards.  Steps are laid out as examples to follow for a successful event.  Each League and event is different so modify or add to the ideas in the kit.  Be aware of the interests that are important to your area. Think "outside the box." Be creative. But don't be afraid to adapt someone else's idea.
YOU DON'T HAVE TO REINVENT THE WHEEL! 
Linked to this document is a web page with examples of Events and Resources you can use to create your own event. And at the end of this Kit there is a detailed plan for one event (a parade).
LET'S GET STARTED
The women, who came before us, didn't do it alone. They organized, gathered like-minded people, assigned roles, and made plans.
READ MORE

DECIDE ON THE EVENT
Think local.  How did the suffrage movement play out in your area?
Was there a person who played a role in the movement or did an event take place nearby. 
Talk to your local historian.  
Do research online or at your library. 


READ MORE

START A TIMELINE
Timelines often need to be modified as plans go forth.
Include: publicity, committee meetings, contacts, thank you notes.
Find the Events Planning check list or Planning Sheet in the resources.  It will be helpful keeping your program on track and ensure that nothing is missed.
PUBLICITY
Publicity is important. It brings attention to your event and awareness of the League's work. There are many ways to get publicity:  an interview on a TV station, a flyer in a store window, etc.

READ MORE

SOCIAL MEDIA 
Social media may be one of the best ways to bring attention to the event. 
Facebook:

If you haven't already, make a Facebook page for your League.

Ask members and others to "like" the page.

Make a couple of members Facebook page administrators.  They can post and change the look of your page.
Twitter:
Twitter is increasingly popular.  It's like a newsfeed where posts are 280 characters or less. The posts are called tweets and include images and links to websites.
Twitter uses hashtags #. Hashtags help your message be part of larger conversations and be more visible. Use hashtags that are popular for your event, e.g. #vote.
THE EVENT AND AFTERWARDS
Ensure that all who have a role are aware of what they have to do.  Write it down and distribute to all.  Give them your cell phone number to text or call you for a last minute question or problem. 
Enjoy the event. Remember that if things don't go 100% the way it's planned, no one will notice.
Afterwards, meet with your committee and do a wrap up.  Report to your board of directors. 
And always write thank you notes to all involved. 
RESOURCES
New York State has resources specifically under the tourism and historic preservation agencies. Included is an online map of locations where women made history, the Women's Heritage Trail. http://www.iloveny.com/path-through-history/womens-rights
Sample League Activity
This is an example of an activity and how the local LWV organized and carried out the event.
EVERYONE LOVES A PARADE
Build, Collaborate, Partner
Decide on the Event
Timeline for Parade: (sample)
Guidelines for 1 year, 6 months, 3 months and 1 month. 
Publicity
The Event and Afterwards