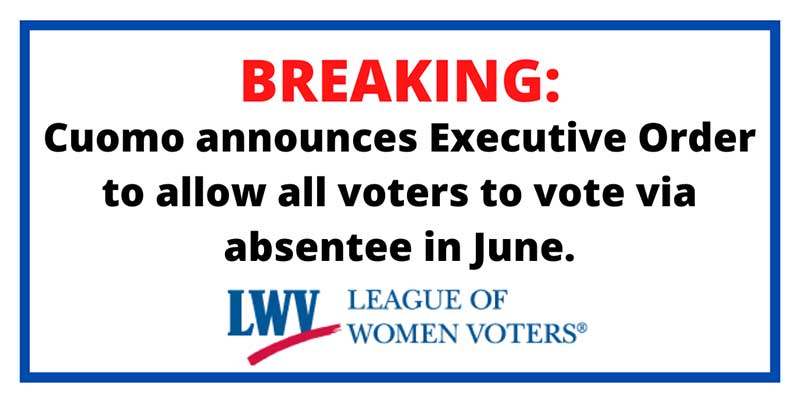 The League of Women Voters has long been recognized as the premiere source for nonpartisan election information.Need some assistance during election time? Whether you're a first-time voter or just looking for some friendly reminders, the League has the information you need.
2020 Elections (as of May 1, 2020)
Presidential Primary: June 23rd
Special Elections for 12th Assembly District, 31st Assembly District, 136th Assembly District, and 50th Senate District: Cancelled
Special Election for 27th Congressional District: June 23rd
Congressional, State Legislative and Local Primaries: June 23rd
School Board Elections: June 9 by mail only
Village, Town Elections originally scheduled for March, April, May or June: September 15
HOW DO I VOTE BY ABSENTEE BALLOT? FREQUENTLY ASKED QUESTIONS
FOR 2020 JUNE ELECTION (Updated 5/1/2020)
VIDEO ON HOW TO VOTE VIA ABSENTEE  IN NEW YORK STATE
ABSENTEE VOTING INFORMATION FOR ALL COUNTIES IN NEW YORK STATE
Scroll Up or Down to find your county

Scroll L to R to find address, phone number, email address, hours of operation, and absentee ballot procedures for your county.
DATES, DEADLINES, FREQUENTLY ASKED QUESTIONS AND MORE ON 2020 ELECTIONS
Early Voting Times and Locations by County Chart
Click on your county to find the days, times and locations for early voting in your county.
Updated 2020 Political Calendar (April 7, 2020)
2020 Updated Political Calendar
Congressional, State, and Local Primaries, June 23, 2020
EARLY VOTING JUNE 13 - 21
May 29 is the last day to register in person or to postmark your voter registration form
June 16 is the last day to postmark application for absentee ballot by mail
June 22 is the last day to apply in person at board of elections for absentee ballot
June 22 is the last day to postmark absentee ballot
June 23 is the last day to deliver absentee ballot in person at board of elections


VOTE411.org
Find the races and candidates on your specific ballot at www.vote411.org.
Voter Registration Basics
 


 Your Right to Vote in New York State 
College Students
Brochure                                
Individuals with Disabilities
Brochure
Homeless Individuals
Brochure
Individuals with Mental Health Disabilities
Brochure 
Individuals with Criminal Convictions and Those Detained in Jail or Prison
Brochure
NYS Board of Elections
Link to NYS Board of Election site with instructions for using each of the new voting machines; click on the machine type and a listing of the counties using that type will be provided on the right side.
Running For Elective Office in NYS. 
Specific information and instructions for anyone considering to run for elective office in NYS.
Voter Services
Election Information
ROAD TO THE VOTING BOOTH (RESOURCES FOR LOCAL LEAGUES)