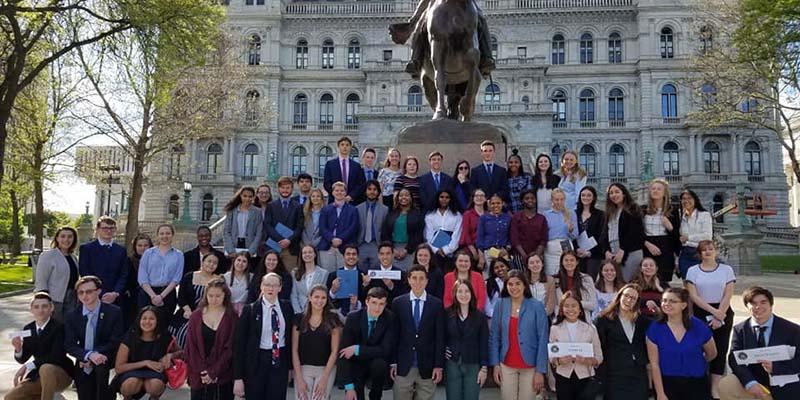 Youth Programs 2020
We are very proud of the expansive work our Youth Committee does engaging high school and middle school students in a variety of activities. This year is a particularly busy one with a number of excellent programs planned. These include:
1. Students Inside Albany is a program sponsored by the League of Women Voters of New York. Local high school students are encouraged to enter an essay contest about their interest in government and politics. One or two students are selected by Leagues around New York State to participate in an all-expense-paid trip to Albany where they spend time shadowing their state representatives, watching legislative proceedings and touring the state house.
2. Students Inside Suffolk County is a program sponsored by the League of Women Voters of Suffolk County, ILO. A group of civic-minded high school students from local high schools attend a day at the Suffolk County Legislature in Hauppauge. They meet with their county representatives, listen to a presentation on an important issue and break out into groups to prepare a mock debate with students playing the role of legislators and other community officials.
3. Running and Winning is a day-long workshop for high school girls from various school districts on Long Island. The participants learn what it takes for a woman to enter the political arena and run for office. A panel of women who have run for office at various levels of government speak to the girls about their experiences. The participants are broken into several groups and work together to create a political campaign for a virtual candidate. They decide on the office, develop a profile of the candidate, develop a position on an issue or two, write a slogan, choose a group member to portray the candidate and give a brief speech outlining her positions on issues.
4. Vote 18 is an interactive 40-minute program designed for high school seniors. Members of our League go to area high schools to present this lesson that includes a section on the history of voting in the US, a discussion of the students' positions on selected issues of importance to them such as gun control, immigration, student loans, and legalization of marijuana. This is followed by a mock debate, election and finally voter registration.
5. Vote 13 is an interactive lesson for middle school students.
6. 100 Years of Women Voting: A Creative Arts Challenge: Co-sponsored with the Town of Huntington, this is a contest for high school students focusing on the struggle for women's suffrage. Their art projects may be in any medium: poster, dance, music, essay, sculpture, etc. An awards ceremony is planned for April 7, 2020.
Contact us at LWVHuntingtonNY [at] gmail.com if you want to join in on any of these activities. These programs are fun and informative for all involved.