Becoming more Diverse, Equitable and Inclusive ...
Both the national and state Leagues have put together much information and materials to support the national push for Diversity, Equity, and Inclusion. Our League is in total support of their efforts.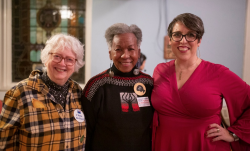 We continue to work towards all three goals and are delighted that the Dutchess Pride Center is excited to engage in activities with us.  We have recently reached out to diverse organizations in our communities, both when implementing voter registration drives and in support of their missions. Pictured above are League members Kathy OConnor and Kate Hymes with workshop leader Eva Tenuto of the TMI (Too Much Information) Project in Kingston.  Indeed, Black Stories Matter.  We have been very visible at Kingston's regular Black Lives Matter demonstrations, and hosted a Tenants' Rights event.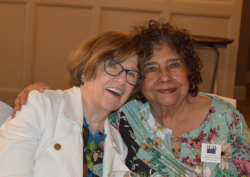 Education is an essential building block to increasing awareness of these issues. We have attended webinars on DEI and brought the discussion to the board when we adopted the national position. There is more to do, both in educating and implementing these ideas in our everyday work in the community. We urge you to take the time to think about how you personally can help our League become more diverse, overcome inequities imbedded in our systems, and include those outside our regular orbit. It will take time, but if every member is aware of our objectives in this matter, we truly believe we will not only have a better League, but a better democracy.