-- by Gai Galitzine
"The best way to understand elections is to be a poll worker", I was told by a veteran League member. So I was disappointed this year to have to turn down the opportunity to work at a polling place because of Covid fears. Then I learned about 866-Our-Vote and Election Protection. With over 100 local, state and national sponsors (including LWV) this non partisan organization strives year- round to inform and assist all voters with registration and any issues regarding actual voting. Common Cause took on the NYS responsibility of organizing online and on the ground monitors for the primaries, early voting and election day, together with hotline numbers offering support to voters in a variety of languages. 
 I volunteered to be an online monitor for Primary Day, searching Twitter, Facebook, Instagram and any other relevant social media sites for voting related questions, comments or news reports. Most posts were pretty simple to answer about registering, polling sites or absentee ballots. More difficult questions were referred to the appropriate hotline. We were also looking for disinformation or intimidation. The idea was to find issues and gather information and the system was set up so that you could pass on a link to and a screen shot of the post to regional monitors.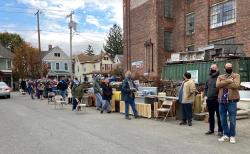 I am less a computer person and more a people person, so for the General Election I volunteered to be a monitor on the ground and spent a couple of hours in online training. Outfitted in my EP t-shirt, EP mask and carrying my EP clipboard, I spent time at several different polling sites in Ulster, Dutchess and Columbia counties throughout the ten days of voting. Despite the weather, the long lines and all that driving around, it was immensely rewarding. Outside NYC and parts of Long Island we did not have official written certificates allowing us inside the polling places, where part of our task was to check on and report back the set up: machinery working, absentee ballot boxes, accessibility, PPE available etc. So it depended on the poll workers; some were comfortable letting us in to check in when we arrived, others were adamant that we stay outside and beyond the 100ft line. 
Most of my three hour shift time was spent walking the lines to find elderly or disabled voters and accompanying them to the poll station door, bypassing the line. It was satisfying to be able to answer simple questions or check websites for registration or polling place questions. But most of all it was great to just chat. Throughout I saw a broad range of reactions: people anxious, determined, resigned, excited (mostly first time voters) and just plain happy. I heard a lot of "this is too important" remarks. Given the Covid restrictions, for some people standing in line, even 6 feet apart, was a rare social event.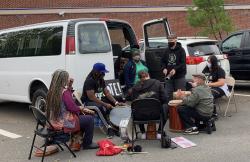 We were signed into online chat rooms where we could report in on long lines, parking problems, bad weather, lack of visible signs, machinery breakdowns and anything else that impacted the voter experience. Monitors sitting at home could report important issues, including violation of rules, up the chain to someone who would contact the appropriate person, a lawyer or maybe someone at the Board of Elections. My chat room included people on the ground in NYC, Westchester and Rockland as well as the MidHudson region. So I got to hear about long lines and volunteer 'pizza to the polls' and 'chefs to the line' and shared my picture of drummers serenading the long line of Kingston voters on the first day of early voting. Occasionally I would hear about a problem - someone online wearing a candidate promotion, or a noisy repeated "drive by" promoting a candidate, but as we know, there were very few problems beyond the logistics.
I was impressed by the voters but also by my fellow volunteers, especially those in areas where there were problems. Many of them stayed long after their shifts ended, checking on different polling places, ordering pizzas for those in line, helping understaffed poll workers where they could. It felt good to be part of the effort. I will do it again.