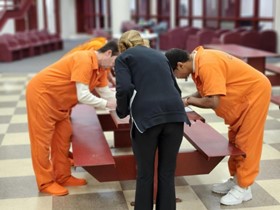 After all the important changes in NYS Election Law benefiting incarcerated citizens last year LWVMHR members took the reins and set out to educate people about those changes for 2023.
Christine Hunter and Cindy Bell went through the jail's volunteer training after applications and paperwork were completed and approved. Officer Lacey, supported by UC Sheriff Juan Figueroa, contacted us last week to let us know it was time for a visit. 
Ulster County Board of Elections Commissioner Ashley Torres (D) and Deputy Commissioner Keri Williams (R) joined us as Officer Lacey led us through the six jail units, announcing our presence at each and allowing us to speak with the incarcerated individuals and to help them complete forms and answer questions. It was a wholly satisfying experience and we came away with 16 registrations and 31 absentee ballot applications.
This result was a very pleasant surprise to everyone involved. The total jail census right now is around 200, so this was a significant percentage of newly registered voters as well as those who didn't know they could still vote while incarcerated and needed some assistance to fill out absentee ballot applications.
At the end of our visit, Ashley and Keri took the documents back to the BOE and got to work to make sure everyone gets the appropriate ballot. They will make sure ballots are delivered to the jail in time for voters to check them out, find out more about what's on the ballot and mail them back to the BOE by Election Day. They will also contact UC Tech Support in order to add the UCBOE website to available internet resources for incarcerated individuals. 
Christine and I are most thankful for Sheriff Figueroa, Officer Regina Lacey, Colonel James Mullen (Superintendent of Corrections), Officer Craig Williams (CO and Public Information Officer) for welcoming us and keeping us safe and on track. We are also grateful to Ashley Torres and Keri Williams for helping make this process an amazing success. 
We learned a lot about how this all works and next time we'll be sure to bring more registration forms, absentee ballot applications, pens and LWV brochures about voting for the incarcerated. We used every form we had with us! 
We all made an extremely effective team and I encourage our Dutchess and Orange County members to reach out to their respective Sheriff's office to set the process in motion for next year and into the future. Christine and I stand ready to help any interested LWVMHR members. We'll be back next year before the presidential primary on April 4, normal June primary, and the general election next November. More Ulster County members are invited to join our team!