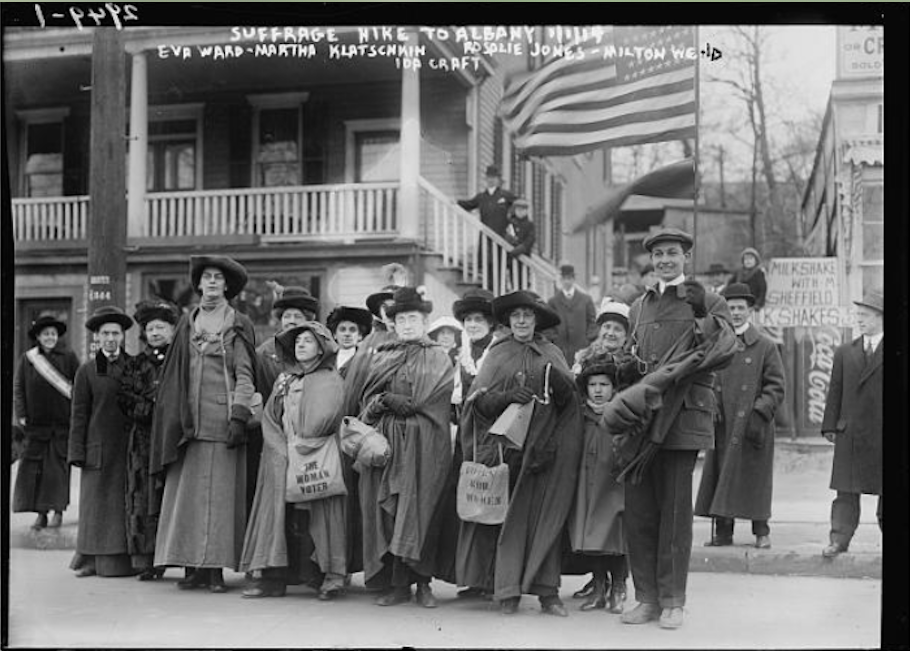 Location
Poughkeepsie Friends Meetinghouse
Poughkeepsie
New York
12603
New York US
Friday, March 20, 2020 - 7:00pm
THIS EVENT WAS CANCELED.
On Friday, March 20, 2020, Carol Williams, a Canadian teacher and author, will speak about some of the friendships that kindled women's suffrage in the USA one hundred years ago. Titled "Valiant Friends," her talk will recount the story of Elizabeth Cady Stanton, Lucretia Mott and their Quaker friends, who, in 1848, gathered for tea and created America's first women's rights convention in Seneca Falls. 
 Ms. Williams also will talk about Rosalie Gardiner Jones and Ida Craft, who marched a small all-women army from NYC to Albany in December of 1912, to petition for women's right to vote. The speaker offers this talk in Poughkeepsie as part of her own walk along the Hudson from NYC to Albany, retracing the footsteps of those brave suffragists.  
 Folksinger Pat Lamanna will embellish the talk with songs of the women's suffrage movement.
 The event begins at 7:00 p.m. and will be held at the Friends Meetinghouse, 249 Hooker Avenue, Poughkeepsie. It is open to the public at no charge; donations are welcome. Light refreshments will be served.
 The timing of this talk is most appropriate, given that March is Women's History Month and 2020 is the centennial year of women gaining the right to vote in the United States.
 The event is sponsored by Poughkeepsie Friends Meeting (Quakers), League of Women Voters of the Mid-Hudson Region, Social Justice Committee of the Poughkeepsie Unitarian Universalist Fellowship, and Dutchess County Progressive Action Alliance.  Call 845-340-2003 with any questions.
Issues referenced by this event: