Help End Debtor's Prisons
We advocate for and educate the public regarding the extent to which our criminal justice system has become an unconsitutional "debtor's prison" for those too poor to pay bail and the extensive array of fines and fees imposed by North Carolina courts.
Current Crucial Information
LWVPT Board Member, Tyler Daye writes on Medium. Democracy only works because the people make it work. Read about 3 steps you can take beyond protesting to fight against racism and police brutality.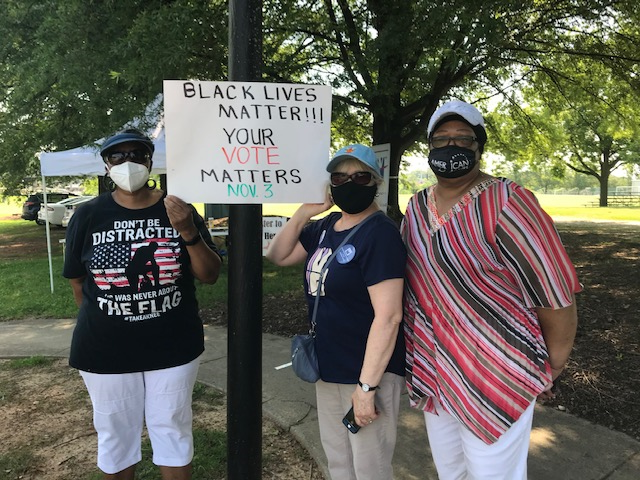 A 2016 documentary from Netflix, was made freely available on April 17th, 2020, on YouTube.
From Netflix: "The title of Ava DuVernay's extraordinary and galvanizing documentary refers to the 13th Amendment to the Constitution, which reads, "Neither slavery nor involuntary servitude, except as a punishment for crime whereof the party shall have been duly convicted, shall exist within the United States." The progression from that second qualifying clause to the horrors of mass criminalization and the sprawling American prison industry is laid out by DuVernay with bracing lucidity. With a potent mixture of archival footage and testimony from a dazzling array of activists, politicians, historians, and formerly incarcerated women and men, DuVernay creates a work of grand historical synthesis."
Meeting Information
Next meeting: Friday, September 25th, 2020. Please contact co-president [at] lwvpt.org for details.
Pertinent Resources
Social Justice/Services Organizations in Greensboro (2017)
Flood of New Court Fees Drown Indigent Defendants (Winter 2017)
David E. Clark and Kevin J. Murtagh, North Carolina State Bar Journal

The Prison Paradox: More Incarceration Will Not Make Us Safer (July 2017)
Don Stemen, Department of Justice and Criminology, Loyola University, Chicago; Member Vera Research Advisory Board
Vera Evidence Brief
Does the United States really have 5 percent of the world's population and one quarter of the world's prisoners? (April 30th, 2015)
Michelle Ye Hee Lee, Washington Post
Positions
Criminal Justice
We support a criminal justice system that will result in a reduction in the rate of incarceration that has increased over the past several decades, while minimizing crime and maximizing the safety of our communities.
We support
a criminal justice system that is just, effective, equitable, and transparent, and that fosters public trust at all stages including policing policies, pre-trial procedures, sentencing, incarceration, and re-entry;
the elimination of any incentives for financial profit as a part of the system;
the elimination of systemic bias, including the disproportionate policing and incarceration of marginalized communities;
policing practices that promote safety for both law enforcement officers and the communities they serve;
methods of deterrence alternative to arrest (such as citations) and especially to incarceration;
collaboration between government and community throughout every stage of the criminal justice system;
a focus on humane treatment and rehabilitation of those who are incarcerated, with the goal of promoting their successful re-entry into communities when possible;
reliance on evidence-based research in decision-making about law enforcement programs and policies (including scheduled, periodic audits of programs and policy effectiveness).
(Thanks to the state League of Women Voters of California, upon whose policies this position is based.)