Board of Directors
Alison Ricker, Co-President
Alison Ricker is from the Oberlin Area League. She has served as Head of the Science Library at Oberlin College for 34 years; prior to that, she was Librarian at Skidaway Institute of Oceanography in Georgia. Alison has been the Co-President of the Ohio League from 2015 to 2017.  She became active in League in 2004, after an intensive volunteer effort to register new voters with the "Oberlin Votes!" coalition (a grant-funded project led by a group of residents including League leaders Mary Kirtz Van Nortwick and Linda Slocum). She has served on her local League board for many years, as Member-at-Large, Secretary, Membership Chair, Treasurer and President. Alison also serves as a Precinct Election Official. She is proud to say that her mother, Janet Ricker, served as President of her local League in Pittsburgh, PA in the 1960s - a wonderful role model for valuing democracy.
----
Mary Kirtz Van Nortwick, Co-President
Mary Kirtz Van Nortwick, a member of the Oberlin Area League, is currently serving as co-president of LWVO. She holds a Ph.D. degree from Case Western Reserve University and is now Professor Emerita of English and Canadian Studies at the University of Akron. During her service on the LWVO Board of Trustees from 2007 to 2011, she was Chair of the Personnel Committee. She has also served in various capacities on the Oberlin Area board as well as on the boards of the Oberlin Public Library and the Oberlin Heritage Center. In 2013-14, she was a member of the Oberlin City Charter Review Commission.  A member of the original Oberlin Local League from 1965 until it disbanded in 1978, she was among those who worked to bring a full-fledged league back to Oberlin and Lorain County in 2004.
----
Andrea Cobb, 1st Vice President
Andrea Cobb is currently serving as the Bookkeeper for the Greater Dayton Area League. Andrea has a BA in International Trade from Auburn University and continued her education in Accounting at Louisiana State University. She has been nominated to the President Elect position in her local League for the upcoming board year and has previously served as Membership Director in her local League and First Vice President and MLD coach for the state League. As a (now-retired) military spouse, Andrea spent 20 years serving on various Boards for non-profit organizations within the military community all over the US and Europe before settling with her husband and four children in Ohio a few years ago. She loves to travel and is passionate about women's rights.
----
Deborah Schmieding, 2nd Vice President
Deborah Schmieding is a member of the Athens League.  She recently retired from a 39-year career supporting kids and adults with developmental disabilities in Athens and Washington Counties.  Her passion to advance disability issues did not end at that time, and she continues to find home for this effort with the League.  Voting access is very important to her, and she is proud to be affiliated with the premier organization protecting this right for all citizens.  She has served on the LWVO board from 2004 to 2011 and again in 2016-2017.  Deborah has an undergraduate degree in Communication from Michigan State University, a Masters of Public Administration from Ohio University.
----
Gail Pytel, Treasurer
Gail Pytel is a member of the Kent League.  She worked as CFO for United Way of Portage County for 25 years and has an MBA with a concentration in finance from Kent State University. She currently serves as treasurer for several organizations including the LWV of Kent, the Rotary Club of Ravenna, and the United Methodist Church of Kent.   As a Kent League member, she has served as president, vice-president, VOTER editor, and on more committees than she cares to think about! From 1997-2001, she was Treasurer of the LWVO, and rejoined the board from 2007 to 2011.  She has also chaired the state League's Budget Committee.
-----
Iris Meltzer, Secretary
Iris Meltzer is with the Kent League. Iris holds a Master's Degree in psychology from Western Carolina University and a Master's of Public Health from the Consortium of Eastern Ohio Master of Public Health Program, for whom she served as Accreditation Consultant from 2013-2016. Iris retired from Akron Children's Hospital after 28 years as the Administrator for Adolescent Health Services. Previously she was a founding member and director of Portage County's first shelter for battered women and their children. She has been a member for the League for five years and has been President of her local League as well as a member of Kent's MLD team. She has been on the board of the Ohio League for the last two years.  Iris is a community activist and, in her insufficient spare time, likes to read and travel.
----
Alfreda Brown, Director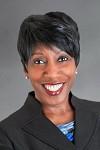 Dr. Alfreda Brown was appointed as the inaugural vice president for the division of diversity, equity and inclusion at Kent State University in the fall of 2009. Dr. Brown joined Kent State after serving 22 years at Rochester Institute of Technology in Rochester, NY. She has responsibility for the executive leadership and management of Kent State University's diversity and inclusion matters, leading diversity strategic planning for the university and ensuring successful implementation of related policies, programs, and projects. Alfreda currently serves on the Board of Directors for the League of Women Voters, Ohio, Board of Directors for League of Women Voters, Kent, OH, Board of Directors for the Portage Medical Center Foundation Kent, OH, and the Board of Directors for Kent Social Services, Kent, OH. She holds a bachelor's degree from Roberts Wesleyan College, a master's degree from Rochester Institute of Technology and a doctorate degree from Nova Southeastern University. She is a strong advocate for women in leadership.
----
Ana Crawford, Director
Ana Crawford is from the Dayton Area League. She is an attorney at Porter Wright Morris & Arthur, LLP and has been with the firm since 2013. She focuses her practice in general commercial litigation and is also involved in some voting rights litigation. Prior to Porter Wright, Ana worked at the ACLU of Ohio during a multitude of legislative changes involving election law, and in that role lobbied the state legislature on voting rights and other related issues. Of all of the League's positions, she is most passionate about voting rights and access to the ballot. Ana has served as both vice-president of program and secretary for her local League.
----
Martha "Marti" Kleinfelter, Director
Marti Kleinfelter is from the Clermont League. She grew up in Maumee outside of Toledo, and received her bachelors degree from Bowling Green State University and master's from Northern Kentucky University. She was a teacher (Social Studies, English and driver's ed) for 33 years. She joined the League in 2000 and has served as president, secretary and suffragist dinner chair for the Clermont League. She is a volunteer at the local library, the polls for election day, CASA volunteer and historical society in Clermont county.
----
Lee McLaird, Director
Lee McLaird is from the Bowling Green League. A member since 2004, she has served on the LWVBG Board and as secretary and two terms as president. Her committee activities have included Voter Service and Education. She holds a B. A. in English and Library Science from the University of South Dakota and a Master of Librarianship from Emporia Kansas State University. She worked for 25 years as Reference Archivist and Rare Books Curator at Bowling Green State University, assisting researchers using local government records and the official records of some state legislators and US Congressmen. She is proud to be a third-generation member of League.
----
Deb Peluso, Director
Deb Peluso is from the Metro Columbus League. She has a B.A. in Psychology and a Master of Organization Development. She owns and operates a consulting firm focused on change management and organization design, along with her husband. Deb currently serves as Secretary for the Metro Columbus League and as a coach for the LWV Ohio MLD program. She has been a league member since 2011.
----
Alice Schneider, Director

Alice Schneider is from the Cincinnati League. Currently, Alice is director of communications for Applied Information Resources, a nonprofit public policy research group in Cincinnati   Before that she was an educator in the Cincinnati Public Schools.   She earned a BA from Ohio State University and a Master's degree from the University of Cincinnati. Alice has been president of the Cincinnati League of Women Voters.  In addition, Alice was state president of the American Association of University Women.  In the Cincinnati League, she managed candidates' forums and has chaired the Speakers' Bureau for several years. She has lobbied on many issues, at the state and local level. She co-chaired the committee for campaign finance reform (2001) for Cincinnati.  She currently serves on the LWVO Board and is co-chair of the Advocacy Committee.                                 
___________________________________________________________________________
Staff
Jen Miller, Executive Director
Raised in small town Ohio, Jen Miller comes to the League from the Sierra Club, where she has served in various capacities since 2008, most recently as Executive Director.
For nearly twenty years, Miller has worked with diverse communities to promote social and environmental justice through positions with Columbus Rec and Parks, the King Arts Complex, Global Gallery, and OSU. Miller earned her Master's in Arts Policy, Education and Administration, a program of the John Glenn School of Public Affairs at Ohio State. She holds Bachelor's degrees in Vocal Music and History and Ethnic Studies from Capital University. Miller is a graduate of the US Department of Energy NREL Leadership Academy.
Inspiring others to participate in civic engagement is her deepest passion. She is a jazz singer and proud mother of one daughter.
----
Sherry Rose, Inspire! Campaign/Development Director

Sherry Rose joined the LWVOhio team in July 2017 as the Director of Development. While addressing all development needs, Sherry's main focus is to guide and direct the five-year Inspire! Sustainability Campaign.
Ms. Rose has spent over 20 years in sales, marketing, business, economic and community development! Ms. Rose held the positions of Account Executive for GTE Mobilnet (Verizon Wireless) and Marketing Manager for Howard W. Sams, a Bell Atlantic Company, before turning her attention turned to business and economic development. For 16 years, Sherry served as Wabash Valley Power Association's (Indianapolis, Indiana) Director of Community and Economic Development. Ms. Rose worked in over 70 counties in four (4) state region. She provided facilitation services, development training, marketing assistance, grant research and project management to over 200 communities and businesses. She developed economic and community development plans to attract, retain and expand businesses across the Midwest. After representing Wabash Valley Power on several sales trips with the State of Indiana, Sherry was hired as the Director of Sales for the State of Indiana's Economic Development Corporation. She was instrumental in attracting national and international companies to the State of Indiana. In early 2015, Ms. Rose began her own consulting company providing business development, marketing, sales, economic and community development services to a variety of businesses, communities and non-profit organizations across the US.
Ms. Rose graduated cum laude with a degree in Communication Studies from Kent State University. When not working, Sherry serves as the President of the Delta Gamma Housing Corporation at Kent State University and serves as the Membership Chairperson and Board Director for the League of Women Voters of Kent. She is also a personal trainer, triathlon coach and Yoga Teacher RYT200. Sherry lives in Kent, Ohio with her two dogs.
----
Munia Mostafa, Membership & Project Manager

Munia Mostafa has been key staffer at LWVO since 2011. She started as project coordinator for the Clean Air Promise Campaign, and she subsequently assumed management of LWVO communication and publications. Munia enjoys helping League members and local Leagues be a strong voice for good government in communities across Ohio.
Prior to joining LWVO, Munia worked in several other nonprofit organizations including the Ohio Association of Nonprofit Organizations (OANO), the Downtown Albany Business Improvement District (BID) and Muslim Aid (a British international relief and development agency). She holds a Master's degree in Communications from the University at Albany, State University of New York and another Master's degree in Design Management from the University for the Creative Arts, England.
----
Nazek Hapasha, Office & Program Associate
Nazek joined the League of Women Voters of Ohio staff in 2018. Prior to that, she graduated from the Ohio State University School of Public Affairs with a Master of Public Administration (MPA). Her most recent work experience is as an Intern to the City Manager in Delaware, Ohio, and as a Graduate Teaching Assistant, working with undergraduate and graduate students in Public Finance and Budgeting. Additionally, Nazek has worked with the Noor Islamic Cultural Center since 2010 in a variety of capacities and is currently a member of the Board of Directors.
Originally, from the New York metropolitan area, Nazek completed her undergraduate studies at William Paterson University in New Jersey, with a Bachelor of Arts in Political Science and Communication. Currently, she lives in Dublin, Ohio with her family.
---