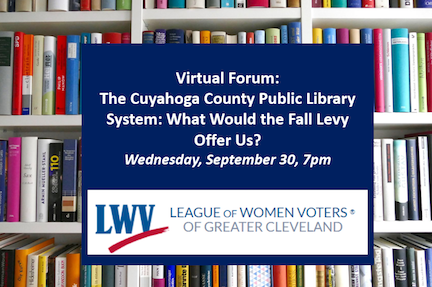 Wednesday, September 30, 2020 - 7:00pm
Video available. A proposed 1-mill tax increase to support the Cuyahoga County Public library (CCPL) systemis on the November 3 ballot of the communities served by the library system. At this forum speakers reviewed current and proposed CCPL services, background on CCPL funding, and how the issues are seen by various community interests:
Tracy Strobel, Director, CCPL
Nancy Levin, Director, Cleveland Heights-University Heights Library
Marcia Goldberg will moderate.
Approval of the levy will add $35 in annual property tax on each $100,000 of home value in the 47 communities served by the CCPL. Rated by Library Journal as America's top-rated library system for the last 10 years, CCPL has the lowest millage of any of our nine county libraries.
Presented by the League of Women Voters of Greater Cleveland.