If there is not a local League in your area, please join the Ohio League of Women Voters as an At-Large member.  The League is open to anyone, male or female, over the age of 16. There are no barriers to participation in any activity of the LWVO on the basis of race, ethnicity, political or religious beliefs, age, gender, gender expression, gender identity, sexual orientation, national origin, citizenship, disability, or socio-economic status.

At-Large members receive all the same information from the Ohio and US levels of League as all members.
| | | |
| --- | --- | --- |
| | $60 |   |
| | $90 | For two people at the same address. |
| | $5 |  NEW LOW PRICE FOR STUDENT MEMBERS! |
| | $100 | A nonprofit, nonpartisan organization that shares similar values and goals. Organizational members are non-voting members at LWVO Convention. Dues for organizational members are $100.  |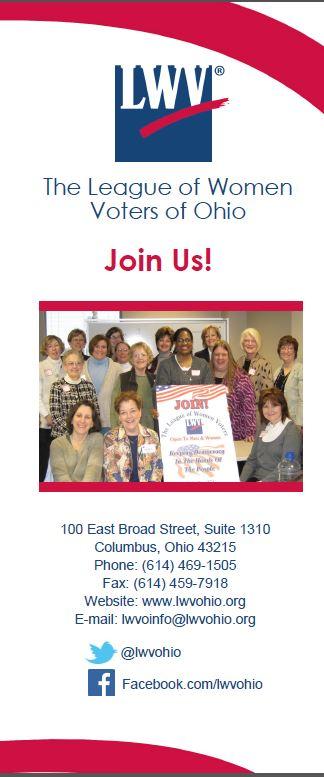 Or, download a 
membership brochure and mail with your payment to
League of Women Voters of Ohio
100 East Broad Street, Suite 1310
Columbus, Ohio 43215.
Privacy Statement: The League of Women Voters of Ohio will not rent, sell, or trade your email address or phone number with any third party.