Thanks to a generous grant from the Women's Fund of Central Ohio, the League of Women Voters of Ohio Education Fund is pleased to offer the "Women's Voices: Training the Next Gen of Women Leaders" project. The Women's Voices Project aims to connect current women political leaders in our communities with high school girls to serve as role models and encourage youth civic engagement. The project includes an introductory assembly or event at the high school, ongoing mentoring, and tools for high school girls to become engaged voters.
Women's Voices Project Materials
LWVO produced the Women's Voices Project Materials, full of helpful tools to inform citizens, facilitate projects, and encourage ongoing relationships.
____________________________________________
LWV Kent works with Girl Scouts on VOTER GIRL Project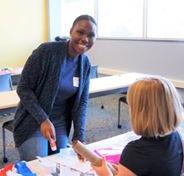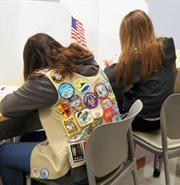 The Kent League partnered with the Girl Scouts of Northeast Ohio (GSNEO) to provide a program it has trademarked as "The Voter Girl Project." During the day-long program on October 21, 2017, League members led local Girl Scouts through their Citizenship Badge requirements open to Scouts from all over the Girl Scouts of Northeast Ohio area. More than 200 girls from as far as East Liverpool, Mahoning Valley, Lake County, and the west Cleveland suburbs participated. Scouts were enthusiastic about the voting activity, which was made possible with help from the Portage County Board of Elections.
The mission of the Voter Girl Project was not only to assist the participants earn their Citizenship Badge, but was also to introduce and reinforce the importance of being an active citizen, learning about government processes, and being an active/informed voter. The Brownies learned about rallies and held a parade to promote being an active citizens. The Juniors chose a social program and held a rally to support their cause. Cadettes learned how to compromise and how compromise effects government/voting. Every level had the opportunity to vote at a real election booth, using real election-type ballots. Each level talked about the importance of women in government and the social impact they can have through their community involvement and votes. LWV Kent created a badge that the Scouts earned after participating in the program.
Kent League reported: "The program far exceeded our expectations! Recognizing the overwhelming success of the program, GSNEO has offered to make it one of their signature programs each year. Overall, it was more successful than we could have ever anticipated."
__________________
LWV Metro Columbus video engages high school girls in calling their legislators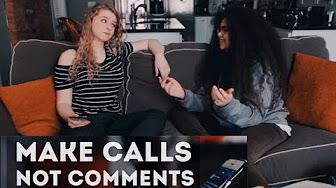 After the surge of passion in political activism that came after the 2016 elections, LWV Metro Columbus wanted to give some tools to new activists to make that first call to their legislators. They focused in high school girls.
This video, released on April 11, 2018, attacks the gender norms that women are quieter and less political than men and shouldn't speak out and also that girls use phones/social media to post selfies and shame other girls.  And, it gives examples of the ways women can use their literal voices to best effect when contacting a legislator while acknowledging that making that first contact isn't necessarily easy.
We hope this video to be seen by women and girls - and frankly anyone - who isn't sure how to call their legislator or is nervous about what to say, or is a young person wanting to involved beyond marching.


_________________
Several projects are planned across Ohio to take place by the end of the 2018 school year engaging with teachers, schools, and others community groups. Women's Voices project plans are underway in Metro Columbus, Hudson, Licking County, and Athens County.
__________________