Outreach to young voters makes a difference!
New research from NonprofitVote.org shows that, for young people registered and engaged by nonprofits:
Overall, voter turnout among young nonprofit voters was 5.7 percentage points higher than turnout among other comparable young voters (61.0% vs. 55.4%).

Turnout was higher among all racial groups engaged by nonprofits, with Latinos showing the largest gain.

Turnout was higher among both men and women engaged by nonprofits.

Pledge-to-vote cards were particularly effective.
Here's a great video to help young people make that first call to their legislators
From the LWV Metro Columbus: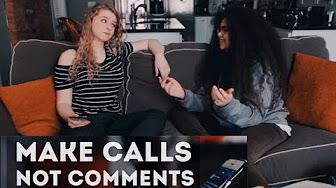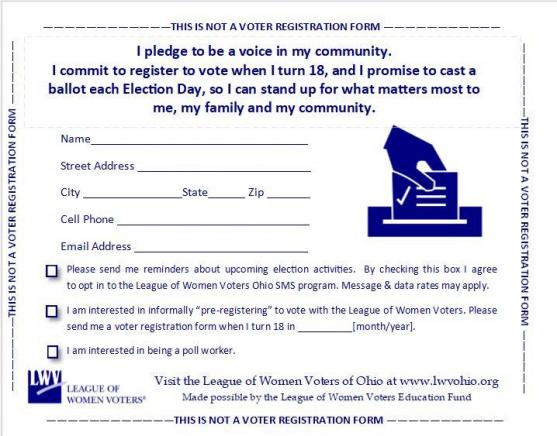 Encouraging voters to sign an "I pledge to vote" card, and then following up by sending them helpful reminders, has been shown to increase voter turnout. LWVO designed a Pledge to Vote (PTV) card geared toward young people that you can use at high schools, college campuses, and other community events. 
Click here to download the card. Please promptly send completed PTV cards to the LWVO office so that we can include those voters in our election reminder system. Keep a copy for your local League so you can send them local election announcements, such as inviting them to a LWV candidate forum.
Informal Voter Pre-registration for Teens
How many times have you held a voter registration drive at a high school and had students say with regret that they won't be old enough to vote this year? Now we have a way to give them a voice! LWVO's new PTV card includes a check box where teens under 18 can informally "pre-register" with LWV so we can get them registered when they turn eighteen.
Turn in any completed PTV cards to the LWVO office. We take care of tracking and follow-up.
 

________________________________________________

Election Reminder Text Message (SMS) Program

 
 

Younger generations are adept at electronic communication, so LWVO has set up a new SMS program that allows us to send election reminders by text message directly to cell phones. The new PTV card featured above includes a check box to sign up for text messages and provide a cell phone number. Voters can also sign up for text message reminders from the League of Women Voters of Ohio on key election dates and activities by texting vote-note to 31996.