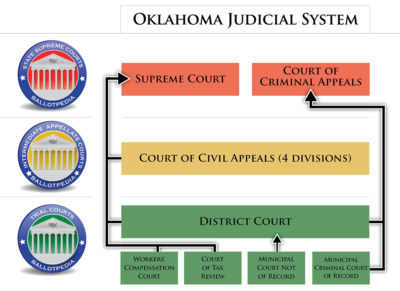 For judges, please visit individual public cases on OSCN.net to attempt to study how each judge rules. CourtFacts.org/retentionballot will take you to profiles for each judge on the Nov 3rd ballot. A few guiding answers from CourtFacts.org/elections that may help you are listed below:
 How do I find out more about the judicial candidates who are running for office?
Since it is very important for judges to be independent and not favor one person over another, the campaigns for judicial office are very different than any other office in the state. Judicial candidates are not allowed to say how they would rule in a case if it came before them or what their predisposition is toward a particular situation.
The best information available on judges is from the lawyers who appear before the judge or other people who know the candidates and know if the candidate is fair, unbiased, independent, can follow the law, has integrity and a good work ethic.
Some judicial candidates may have websites or advertising, but those on the retention ballot are not allowed to advertise. Brief information about those judges is posted on the Retention Ballot page on this site.
I want to vote for only good judges. How do I know which judicial candidates are good?
The most important aspect of our judicial system is that justice is applied equally and fairly to everyone. The purpose of our judicial system is to uphold the law. Therefore, sitting judges and lawyer candidates for judicial office should be fair, unbiased, independent, can follow the law, have integrity and a good work ethic.
Why don't judicial candidates tell us what they think about issues so I know how to vote on them?
Sitting judges and lawyer candidates are prohibited from stating how they would rule in a particular instance or on a particular issue. Judges need to consider evidence in each specific case and then apply the law to that particular case. Further, in cases that go to trial, juries decide the verdict. The judge imposes the jury's verdict unless it was an exceptional verdict not supported by the evidence.
What should I be looking for in voting for a judicial candidate?
Equal access to justice and fairness are the foundation of our judicial system. In order to remain fair and unbiased, a judge makes decisions based on the law and not necessarily on what the popular decision is. If a judge were to make a decision in a case based upon what others thought the judge should do instead of basing the decision on the law, then the judge would not be fair or independent. Public pressure should not be a factor in a judge making a decision in a case. Fairness, independence, integrity and good work ethic are important factors in choosing a judge.
Please visit www.OSCN.net, www.CourtFacts.org, and www.JustFacts.VoteSmart.org to research as best as possible for yourself.