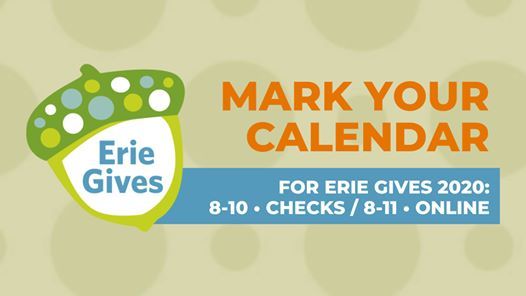 You can be a philanthropist with a gift of just $25 or more to the League of Women Voters Erie County Chapter.
Make your gift online, mail a check, or gift the required minimum distribution from your IRA.
For complete instructions on mailing your check, simply download the Erie Gives Check Contribution Form at ErieGives.org (located under Donate) and send it with your check made out to the Erie Community Foundation indicating LWV Erie County Chapter as your gift recipient, 459 West 6th Street, Erie, PA 16507.
Checks must be delivered to The Erie Community Foundation (459 West 6th Street, Erie, PA 16507) no later than Monday, August 10, 2020.
Or you can choose to go online at www.eriegives.org on Tuesday, August 11, 2020, from 8am to 8pm.
Why give to the League of Women Voters?

The year 2020 has been an extra special year for the Erie League as we commemorate, along with Erie County, the 100th anniversary of the 19th Amendment and celebrate 100 years since our founding. You will see the new public art mural appear at 7th and State streets, "Her Voice, Her Vote", a special television producation on WQLN PBS, "The Story of the Justice Bell and the Women's Suffrage Movement" airing twice in August, the "Every Woman" art exhibit, August 28th at Artlore Studio and there will still be some 2020 suffrage centennial calendar events announced.  One coming up at the Sight Center of NW PA is a talk on Helen Keller who was a suffragaist--August, 19th, 12 Noon, the Sight Center. Another is a self guided suffragist walk at the Erie Cementery with details to be announced soon.  With all of these extra special projects coming to fruition, the League of Women Voters Erie County Chapter will now immerse our efforts in voter registration and continuing to educate on Pennsylvania election reform. Volunteers to assist are welcome. We are training now! There is an election coming! Please vote by mail or in person on November 3rd.  The League of Women Voters voting and election site won a first place  2020 "Webby Award" in its category--Vote411.org . It is the LWV go to website for all election information. Also candidate debates are in the works with Erie News Now and WQLN set to air in the latter part of September.  League members work hard every day for our Erie County Citizens.  Please remember us on Erie Gives Day, Tuesday, August 11th. 
Donors like you have made us the most trusted voice in positive solutions to public policy issues. Please note that your gift to the League of Women Voters, a 501(c)4 organization, may not be NOT tax-deductible (see below).
The League of Women Voters never supports or opposes candidates for office or political parties.  Elections and voting are core concerns for the League of Women Voters.  The League of Women Voters is a nonpartisan political organization, encourages informed and active participation in government, works to increase understanding of major public policy issues, and influences public policy through education and advocacy. The League of Women Voters Nonpartisan Policy requests members who engage in political activities that are partisan in nature to do so as individuals, not as members of the League
 *********  Thank you for donating  *****************
 Paypal account not required to donate-  Paypal securely handles direct credit/debit payment.
If you prefer to donate by check, please send your check to:
LWV Erie County Chapter
PO Box 9686
Erie, PA  16505
Please note- if you would like your donation to be restricted to our Education Fund. Only donations to our Education Fund, a 501(c)3 organization, are tax-deductible.