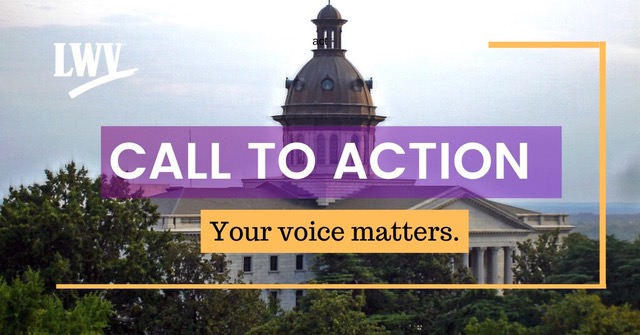 Time Range For Action Alert:
April 18, 2020
SC Action Bingo: participate and we all win!
Write your legislators NOW to enact emergency voting protections.
Absentee voting today
To vote absentee in South Carolina, certain criteria must be met, such as serving in the military, age 65+, or disabled. The voter must first apply for an absentee ballot. Upon review, the state then mails an absentee ballot that the voter completes, signs, and returns in person or by mail. For these eligible voters, mailing avoids the health risks to themselves and others while standing in line in a public place, sometimes for several hours. See scVOTES for a full listing of eligibility, application, and voting requirements.
Currently, 28 states and the District of Columbia offer no-excuse absentee voting. Five states have elections that are held by mail-in ballot; all registered voters can automatically receive a ballot by mail without the need to apply for it or meet certain criteria. Only 17 states require voters to provide an excuse for voting by absentee ballot. Unfortunately, South Carolina is one of those 17 states.
Urgent: extend the deadline to tally ballots
Today South Carolina requires that all absentee votes must be counted on Election Day. Given the COVID-19 pandemic, we can expect many more absentee ballots. Thus passage of S.867 to allow more time for counting of absentee ballots is an immediate priority. This bill passed the State Senate unanimously on February 20 and awaits action in the House Judiciary Committee. Read the League's recent article about needed voting reforms.

Local House Representatives Jeff Bradley (District 123) and Weston Newton (District 120) serve on the House Judiciary Committee. Write to them, if you have not already done so; urge them to quickly move S.867 from committee to a full House vote. Urge Representative Herbkersman (District 118) to support S.867 and speak with colleagues. Both of our local State Senators voted for S.867 so we suggest that you contact them by mail, email, tweet, or post to thank them for voting for this bill and urge further action. Local Senators are Senator Tom Davis (District 46) and Senator Margie Bright-Matthews (District 45).

Already contacted your legislator? Fantastic! Follow up with an email or postcard. Since S.867 has met the April 10 "crossover" deadline for passing legislation from one body of the General Assembly to another, taking this action will at least move us one step closer to improving absentee voting in our state.

Yes, legislators can expand absentee ballot eligibility, enact universal vote-by-mail
Ideally universal vote-by-mail, without eligibility and application requirements, would be the safest avenue for voting during this pandemic or any crisis. Expanded absentee voting would still require an application but without selective criteria. The League of Women Voters has advocated for no-excuse early voting for many years. Unfortunately, the most current bill, S.142, died in the Senate Judiciary Committee subcommittee last year. The Governor does not have the power to expand absentee voting; House and Senate legislation is required.

Urge your SC Representative and SC Senator to enact universal vote-by-mail as an emergency measure. If not currently possible, expand absentee voting so that all eligible voters, without categorical restrictions, can apply for an absentee ballot.

There's power in communications – all kinds
Although we cannot engage in face-to-face advocacy efforts, let's not forget the power of the telephone, social media, and the written word. Enlist your friends, neighbors, and family, including those outside South Carolina who are also dealing with the need to protect everyone's right to vote safely. Share information about why this is so important. Read talking points here.
Less apt to write a letter to elected officials? Take another approach—email, Facebook, Twitter, or other social media. Most, if not all of our legislators, have Facebook pages and websites. Post about your concerns, visit their website, read what they have to say, and maybe start a dialog with them about their positions and the need to protect voter safety.
Let's make a difference and have some fun doing it
To help you get started, we have a great bingo-type game to inspire you. See below. You don't have to be a League member to participate. It's easy! Just complete any four activities in a row for a BINGO.
Simply let me know by May 10 that you've earned BINGO. Everyone who gets a BINGO receives a prize and you will be entered into a drawing for three special prizes! More than one BINGO? Your name will be entered more than once. Just click below or call/text with a quick activity tally, or mail your card or list if you prefer.
Let's put this "stay-in-place" time to good use, not only for ourselves but for the health and welfare of everyone. With your active support, all citizens will receive the grand prize—the right to vote and safeguard their health!
Find your representatives in the Guide to Elected Officials.
~MaryAnn Bromley, State Issue & Advocacy Chair
Mary.ann.bromley@gmail.com, 843-298-2320 (phone or text)
Mailing address: 28 Toppin Drive, Hilton Head 29926
Issues referenced by this action alert: