Location
USCB/Hilton Head Island
One Sand Shark Drive
Campus Event Center
Hilton Head Island
South Carolina
29928
South Carolina US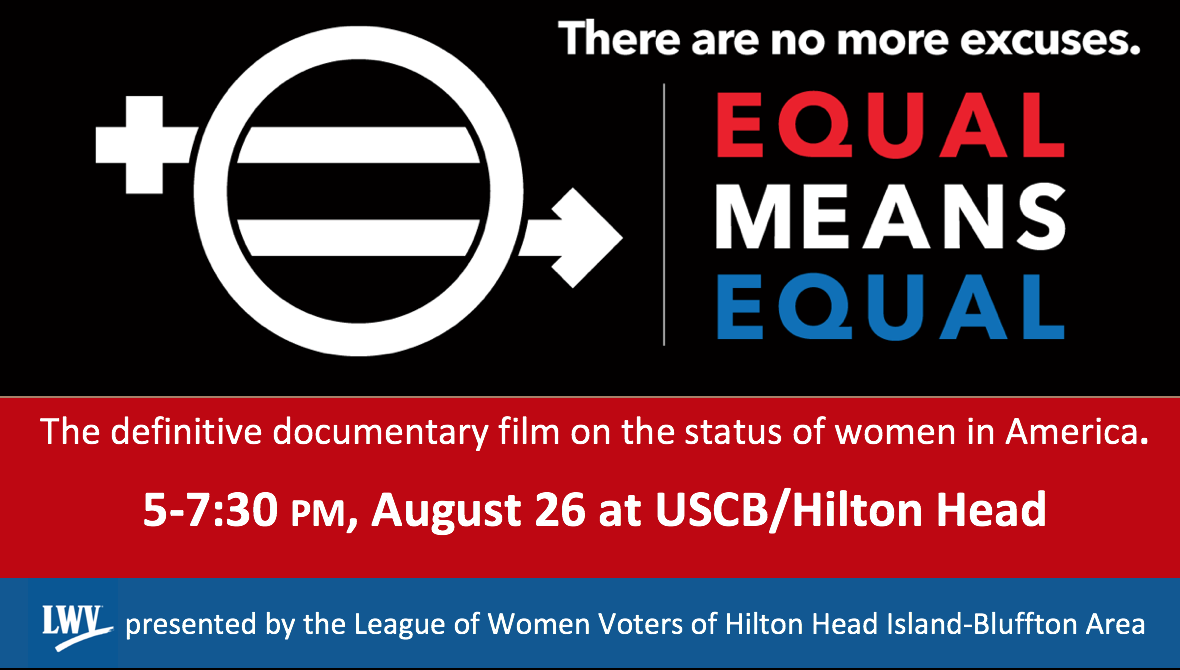 The League of Women Voters of Hilton Head Island-Bluffton Area will kick off the 100th anniversary of the League of Women Voters of the United States on Women's Equality Day, Monday, Aug. 26 with a viewing of the award-winning documentary film "Equal Means Equal."
TICKETS SOLD OUT! Click here to join the waiting list and learn about ERA events. 
"Equal Means Equal" offers an unflinching look at how women are treated in the United States today. Examining both real-life stories and precedent-setting legal cases, director Kamala Lopez presents a compelling and persuasive argument for the urgency of ratifying the Equal Rights Amendment. South Carolina, one of only 13 states which has not yet ratified the Equal Rights Amendment, could be the 38th state to do so and the last state needed.
This fund-raising event will be held at the University of South Carolina-Beaufort's Hilton Head campus from 5-7:30 p.m. The 90-minute film will begin at 5 p.m., with hors d'oeuvres, nonalcoholic drinks, and conversation to follow. Tickets for the event will be available at the League of Women Voters' website (lwvhhi.org ) for $25 each. A cash bar will also be available. Ticket sales will be limited to the first 100 purchases.
Note: The documentary contains adult language and content and is not suitable for children. 
Passage of the Equal Rights Amendment is an equality guarantee for all people. What better year than 2020—the 100th anniversary of the League and of women's right to vote—to finally guarantee equality for women and men in the US Constitution. ~Barbara Hammes, local ERA coordinator, League of Women Voters