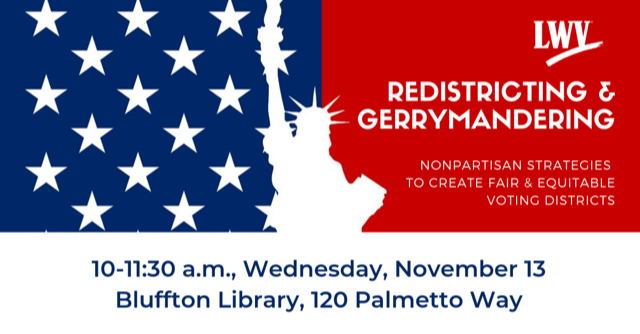 Location
Bluffton Public Library
Bluffton
South Carolina
29910
South Carolina US
Wednesday, November 13, 2019 - 10:00am
AN INDEPENDENT REDISTRICTING COMMISSION MUST HAPPEN THIS YEAR (2019-2020)
A bill must be passed by the South Carolina Legislature and signed by the Governor or we run the risk of least 10 more years of political gerrymandering! 
Following the 2020 census, the SC State Legislature will engage in the process of redrawing our voting districts for the SC House of Representatives and Senate, and the seven US Congressional Districts that represent South Carolina.
Currently, this task is undertaken behind closed doors with no public input and no clear guidelines for the selection of district boundaries. Important factors such as the need to eliminate incumbent and partisan protection as criteria for drawing/redrawing current district lines are not addressed.  The absence of a South Carolina law establishing reasonable and clear criteria governing the selection of voting district boundaries has a far-reaching impact on our entire political process at both the state and national levels.

Therefore, we must work now on passing a law to provide for a South Carolina Independent Redistricting Commission to ensure that our redistricting process following the 2020 census puts us, the voters, first and not our politicians.  Voters should pick their representatives; our representatives should not pick their voters.

Join us at our November 13 Forum to kick-off our local efforts toward getting this important legislation passed.
Special Guest: 
Matthew Saltzman, Ph.D.
Associate Professor of Mathematical and Statistical Sciences, Clemson University. President, the COIN-OR Foundation, Inc. 
Director for Redistricting, League of Women Voters of South Carolina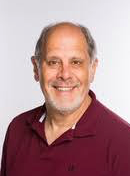 Issues referenced by this event: