The League of Women Voters of Hilton Head Island/Bluffton Area joins the Coastal Conservation League in opposing the current plan for developing the Pepper Hall property on US Highway 278 in Bluffton Township. 
The League will be testifying at the December 10 meeting of the Beaufort County Council, the final reading before approval. We also urge you to:
contact your County Council representative by December 10 to voice your objection to the proposal and/or
attend the December 10 meeting, beginning at 6:30 p.m. in the Council Chambers of the Administration Building, Beaufort County Government Robert Smalls Complex, 100 Ribaut Road, Beaufort.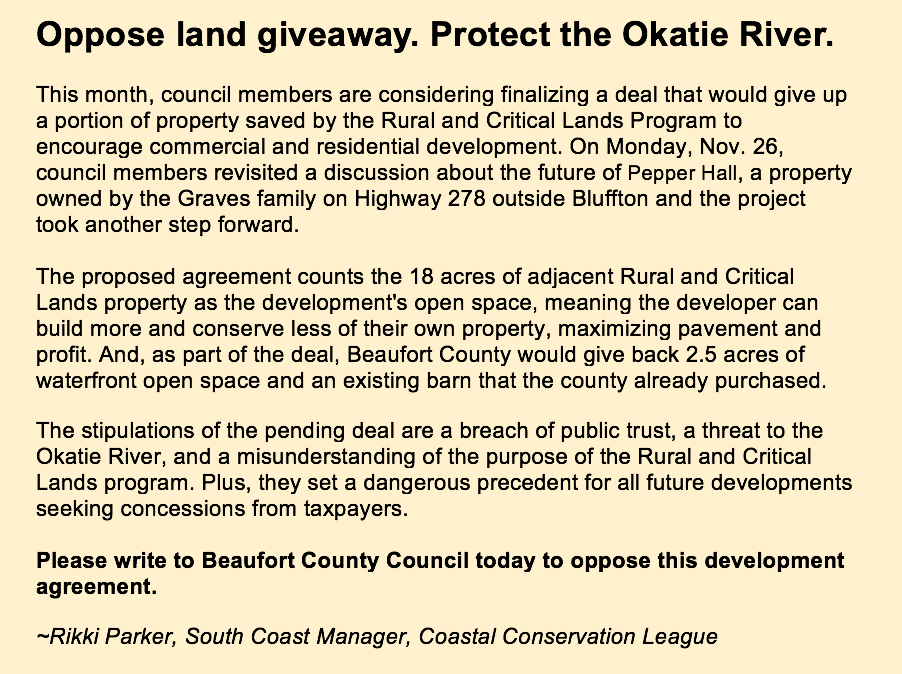 The core focus of the League of Women Voters is good government – one that is both accountable and transparent. We agree wholeheartedly with the Coastal Conservation League that "The agreement perverts the purpose of the Rural and Critical Land Program that protected this land with taxpayer dollars."  We urge council members to vote against the current plan for developing the Pepper Hall property.  Further and more open negotiations are needed. 
Please lend your voice to help Make Democracy Work.®
To learn more:  
Read The Island Packet's coverage of the proposed Pepper Hall Agreement
Read the full development agreement here
Access the Dec. 10 meeting agenda and any agreement revisions (not yet available)