Location
Hilton Head Island Town Council Chambers
Hilton Head Island
South Carolina
29928
South Carolina US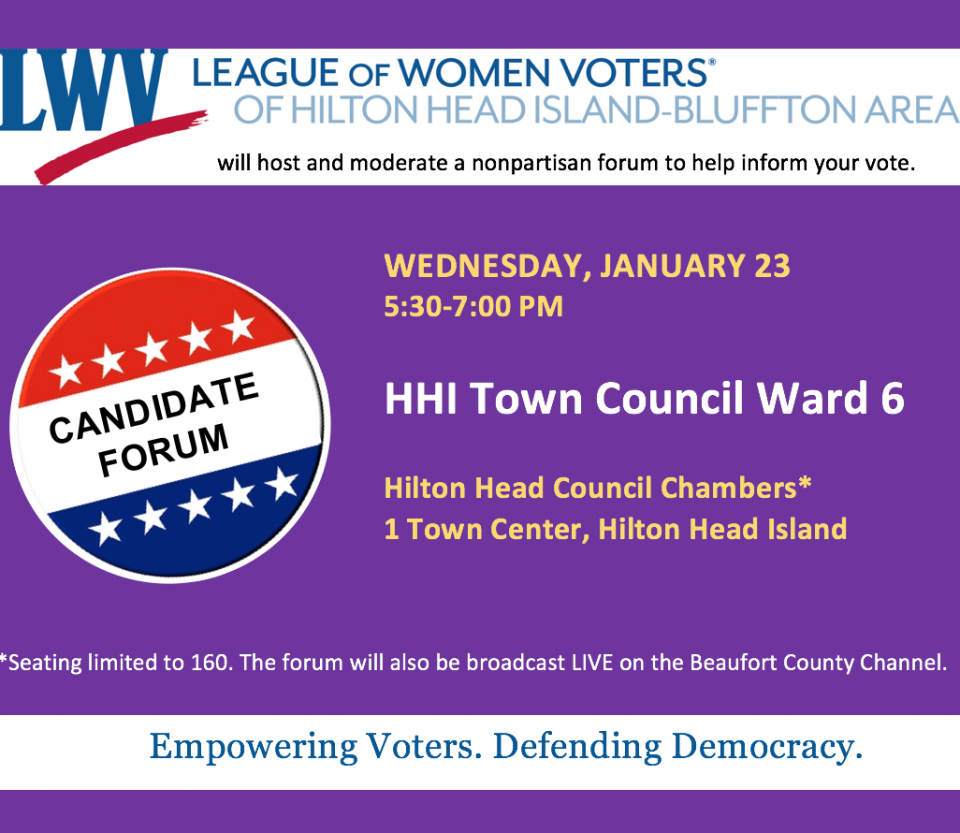 Wednesday, January 23, 2019 - 5:30pm
Hear from the four candidates who have filed to run for the Hilton Head Island Town Council seat vacated by John McCann on Wednesday, January 23,  from 5:30 – 7 p.m. The forum be held at the Hilton Head Island Town Council Chambers, One Town Center Court. Seating is limited to 160; however, the forum will be televised live on The Beaufort County Channel (Comcast 2, Hargray 9 and 113, Spectrum 1304) and  archived on The Beaufort County Channel website. Look under "Community Events." 

Ward 6 comprises portions of the north end of the island, including Port Royal Plantation, Palmetto Hall, portions of Hilton Head Plantation, plus the Folly Field area and Mitchelville.  The candidates vying  to represent Ward 6 on the Hilton Head Town Council are Kent Berry, Jim Collett, Cathy McClellan and Glenn Stanford.  The special election will be held on February 19, 2019.

The League will prepare questions; however, written questions from the audience will also be considered. Volunteers will be needed that evening to serve as greeters and in other roles.  If interested contact, please RuthWilwerding [at] gmail.com (subject: January%2023%20Candidate%20Forum) (Ruth Wilwerding).