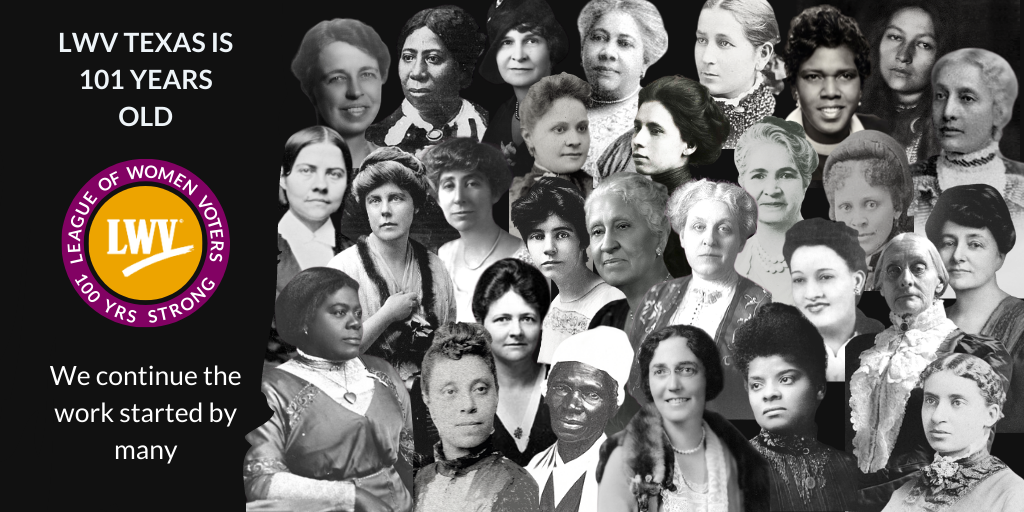 Join us in commemorating the passage of the 19th Amendment, on August 26, 1920, one very important step in our democracy's long voting history.  Support our mission of empowering voters and defending democracy as we continue the fight for voting rights today! 
As Virginia Kase CEO LWVUS said "We mustn't romanticize the story of the 19th Amendment. The truth is, progress towards a more perfect democracy is often messy, and the 19th Amendment did not break down voting barriers for all women—and even today, there is more work to be done."
Honor the heroines who continued the fight for voting rights over the past 101 years.  
Heroines such as ...
The first executive secretary of the League of Women Voters, Minnie Fisher Cunningham, was a Texan who, among many other notable achievements, worked for the passage of the 19th Amendment in Texas and nationally.
A suffragist who was unable to vote in Texas after the passage of the 19th Amendment, Christia Adair, continued to worked for full suffrage as an NAACP leader in Houston. She was among the first black women to vote in a Texas primary after the Supreme Court struck down Texas' white primary law in 1944. 
In 1931, Oveta Culp Hobby was elected the League of Women Voters of Texas president. She was the first Secretary of the U.S. Department of Health, Education and Welfare and first Director of the Women's Army Corps as well as a Chair of the Board of the Houston Post. 
Eva Carillo de Garcia was a missionary, a nurse, a social-welfare volunteer, and a civil-rights activist. She was active in the League of Women Voters and a founding member and president of Ladies LULAC in Austin in the late 1930's. 
Elected in 1966, Texas Senator Barbara Jordan, was the first black state senator since 1883 and then the first black woman from a Southern state to serve in the US Congress. She successfully included Hispanics in the extension of the 1975 Voting Rights Act.
Use the following resources to discover more voting rights heroines and heroes!
Honor a voting rights heroine or hero in your life with a donation to the League!
Resources
Texas 
Texas State Historical Association

other
National