There may be only a few days left in the session, but the action isn't over yet.  Many deadlines are past, yet bill authors are still accepting or rejecting amended versions from the other chamber. Conference committees are being appointed for those, and those bills live on until agreement to move forward or let them die. David Whitley could still be confirmed as Secretary of State if senators who have opposed him don't stand strong in their opposition. In the 86th Session, a total of 7,324 bills were filed and only 20-25% might make it to the governor's desk. The Governor has until June 16 to sign or veto a bill or let it become law without his signature.
Janet Imhoff LWV Texas Advocacy Chair
Here are the results of the 9 Action Alerts we posted last week:
Oppose SB 9

 - died when House Calendars did not put it out for a floor vote.

Support HB 744 Medicaid for New Mothers

 - passed the House but the Senate Health and Human Services Committee never gave it a hearing.

Fight these bills to Protect Local Democracy

 - these four bills also died when House Calendars did not schedule them for a floor vote.

Save the Children's Health Bill HB 342

 - last stop was House Calendars so the House never voted on it! A travesty!

Support Suicide Prevention in Public Schools

 - SB 1390 was placed on the House Calendar to be voted on, but might have run out of time.

Help Prevent Texas Suicide

 - HB 3980 sent to Governor! Your 1467 emails may have helped!

Stop SB 1033 - Protect Choice in Texas 

- it also died in House Calendars!

Stop Whitley's Appointment

 - it could happen as late the last minute of the session on Monday, May 27. If the Lege doesn't approve him, he is gone and another nomination must be made.

Stop the Progress of Senate Amended HB 2911

 - In the Senate, HB 2911 took on a little SB 9 and related Senate bills. The bill's author, Chair Klick, refused to accept the bill returned from the Senate. There is promise that a good deal of the bad sections will be eliminated given the House conferees appointed, Final resolution may not happen until final hours. Similarly, HB 2909's Senate amendments were denied today by Chair Klick and it too will be in conference this weekend. See more in Cinde Weatherby's Voting Rights blog.
LEAGUE PRIORITY ISSUES:
Here is the latest on the Legislative session from our three Priority Issue Chairs. All the other Issue blogs will be updated soon and will be included in a final wrap-up Capitol Action Report, to come in June.
Today Senators are being pressured to approve the nomination of David Whitley as Secretary of State. PLEASE RESPOND TO THIS ALERT NOW! Your voice is needed to remind Senators to oppose this appointment!
Thank Senators for opposing Whitley!
LWVUS ACTION ALERTS:
Support the For the People Act!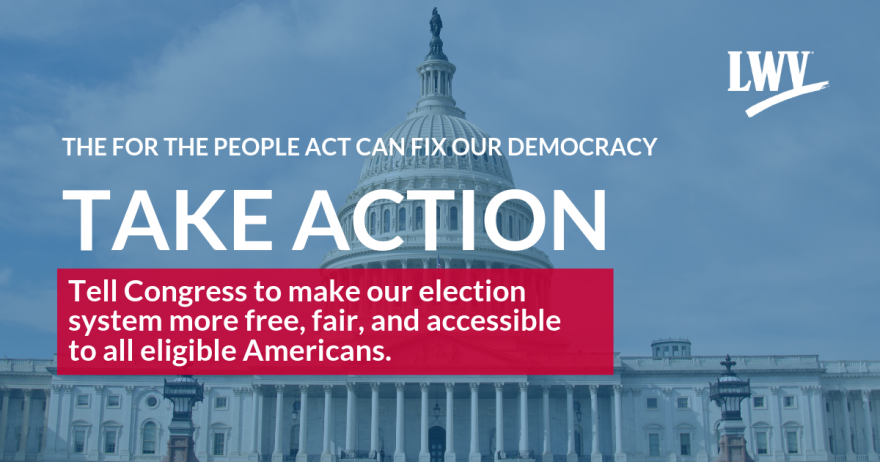 Encourage the U.S. Senate to hold a hearing on their version of HR 1
This bill would require the minting of a series of quarters in commemoration of the ratification of the Nineteenth Amendment granting women the right to vote
CALENDAR:
May
26 - Last day for House and Senate to adopt conference committee reports.
27 - Last day of 86th Legislature 
(sine die) (140th day).
June
16 - Last day the governor can veto a bill.
28 - 
Suffrage Centennial: Texas Women and the Right To Vote!
at the Bob Bullock Texas History Museum. This free event will
commemorate the centennial of Texas' ratification of the 19th amendment. Celina Stewart, LWVUS Director of Advocacy and Litigation is a featured speaker.
October
The Texas League will be commemorating 100 years of "organizing agitating & educating" at the St. Anthony Hotel in San Antonio where the League was founded in 1919! Speakers include: Patricia (Trish) Cunningham Nicholson, the great grandniece of Minnie Fisher Cunningham will speak on the "Power of Women" and Dr. Jessica Brannon-Wranosky, Ph.D. will address the heroic struggle to achieve full voting rights for all women in Texas. Save the date! More details to follow!
RESOURCES
League to which this content belongs:
Texas