ACT NOW on NEW Action Alerts!
With just a few clicks on the action alerts below, you can contact your legislators and let your voice be heard!

Why is voting so hard -- and what can I do about it?  Great question! Take these two actions to protect democracy in Texas! These bills make voting more difficult and continue the fear-mongering about election safety.
Citizens Need Independent Judges for TCEQ Hearings! Help protect air and water quality! Urge your Rep. to vote "No" on HB 3114. This bill is a threat to the contested case hearing process for the TCEQ and could harm our air and water.
CONTINUING Action Alerts
!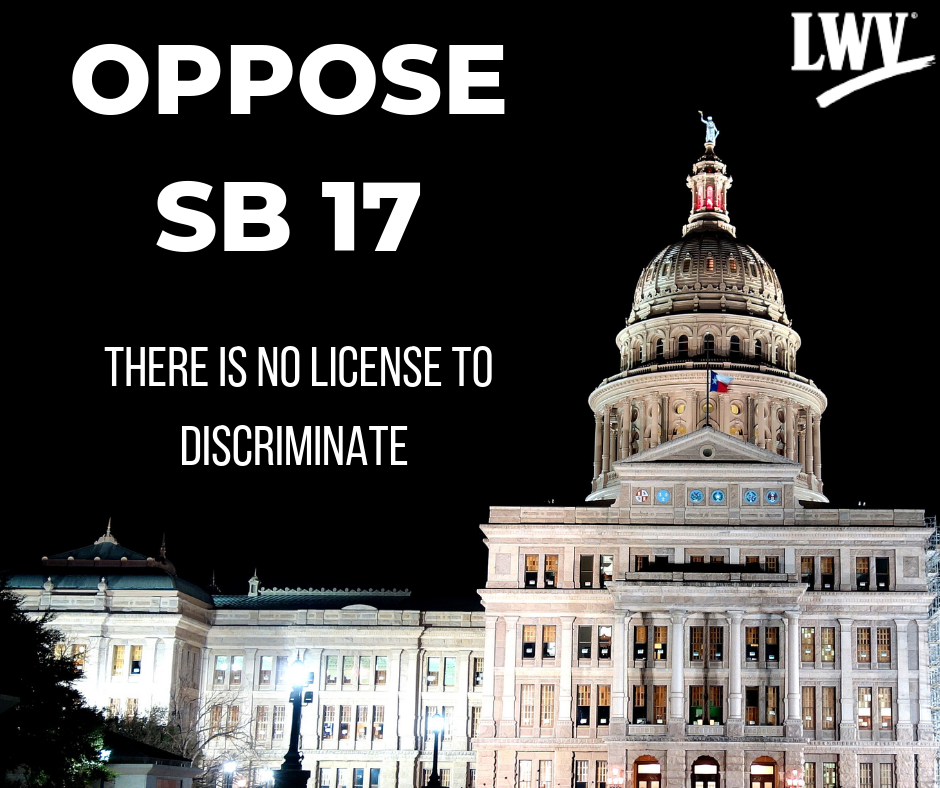 SB 17 is a vehicle to justify discrimination, particularly against LGBTQ Texans. Click here to tell your Rep. to oppose SB 17.
HJR 3 would raise the sales tax by 1%, hurting low-income Texans the most. Click here to oppose HJR 3. Vote scheduled for this Wednesday!
Cli
ck here
 to tell your Rep. to oppose 
SB 23!
 This bill would intimidate doctors and could put women's lives at risk.
NEWS FROM THE CAPITOL - April 15, 2019
By Janet Imhoff, Vice President
Voters are asking us:
"Why is voting so hard...so many rules, exceptions, roadblocks?
Great question! Answer: Bad election laws! You can take these 
two actions
 to protect democracy in Texas! These bills make voting more difficult and continue the fear-mongering about election safety. They seek to block innovation and efficiency.
Redistricting: 

The House Redistricting Committee met for the first time and is setting up hearings around the state to get citizen input. Issue Chair Stephanie Swanson testified at the hearing and did a terrific job! The League has signed on to a Texas Civil Rights Project letter asking for more locations for the hearings. Watch for further developments!

 
In anticipation of the Senate voting on SB 9, League members gathered at the Capitol to stand in witness to this bill that would intimidate voters and suppress voter participation. Check out the video of our League members defending democracy!
LEAGUE PRIORITY ISSUES:
Keep up with your priority issues!
A huge League Thank YOU to the nearly 1,500 who contacted their Senators about
 SB 9
in the past week!!! We also appreciate the large number of local Leaguers and friends who filled a couple of sections in the Senate Gallery. (
video
)
HB 3 - It has $6.3 billion in new funds for public schools! What else is in the bill? 
HJR 3 comes before the House Ways and Means committee Wednesday 
along with HB 4621 and several other bills that will affect how schools get their funding and how we pay our taxes!
UPDATES ON KEY ISSUES:
$1 million to suicide prevention in the House budget!
California and New Hampshire are moving to eliminate the death penalty in their states! 
April is National Child Abuse Prevention Month! How you can help.
Two new bills for pregnant moms and children! Contact your legislator now!
"Debt" as a domestic violence weapon! More common than we think!
Energy
- 
Joy Paulson
 (Midland)
Who are the players in wind power in Texas?
We support three bills that will help the Immigrant community!
Finally! Two bills to study judicial selection, passed committee!
Let your legislators know that land conservation is just as important for flood control as dams!
Digital license plates?! And Peer-to-peer vehicle sharing?!
The leading cause of water quality problems? Non-point source pollution!
CALENDAR
27 - Last day of 86th Legislature (sine die) (140th day)
28 - 
Suffrage Centennial: Texas Women and the Right To Vote!
at the Bob Bullock Texas History Museum. This free event will
commemorate the centennial of Texas' ratification of the 19th amendment. Celina Stewart, LWVUS Director of Advocacy and Litigation is a featured speaker.
The Texas League will be commemorating 100 years of "organizing agitating & educating" at the St. Anthony Hotel in San Antonio where the League was founded in 1919! Speakers include: Patricia (Trish) Cunningham Nicholson, the great grandniece of Minnie Fisher Cunningham will speak on the "Power of Women" and Dr. Jessica Brannon-Wranosky, Ph.D. will address the heroic struggle to achieve full voting rights for all women in Texas. Save the date! More details to follow!
Resources
League to which this content belongs:
Texas